I don't know if this is a widely well known film sound thing, I'm guessing it probably is, but I just happened across it recently – the 'Wilhelm Scream' is a particular archive scream sound effect that's been used in hundreds of films from the early fifties up until right about now and mostly probably beyond.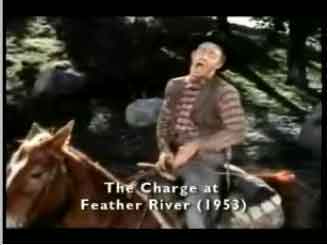 There's an article about it from about this time last year here, more info on it here and it can also be heard there.
Not sound especially familiar? Well, if you've got the bandwidth you can download this clip of 33 wilhelms in 25 famous movies (from 1953-1999 ), compiled by someone called Pablo Hidalgo, available in little [ 4.8 mb ] and, temporarily, large [ 20.3 mb ] [ large is now no longer available ]
On a similar tip also check out other well worn cinema soundbites . . .
I reckon if Wilhelm is cinema's 'Apache', then 'Castle Thunder', must be 'The Funky Drummer' and 'The Universal Telephone Ring' is 'Amen'.