Bit late on the post, but this is all about Wednesday . . .
First off my second experience of The Cube Orchestra and my first in it . . .

I was playing decks, initially going to be placed with the drums in the percussion section, but then Jesse decided to move me backwards towards the keyboards, i.e. the-standing-up-and-needing-a-table section.
It was much fun, but I'm no qbert yet.
More Cube Orchestra news soon I suspect, as it has it's debut in front of an audience as part of A Windy Night At The Cube this Saturday. I shall be bringing records that feature winds.
After that on the same stage I saw Battleship Potemkin. I thought it was just a screening and rescore ( nicely done by Fred Maintenant ) but there was also a talk by Chris Harman . . .
. . . of http://www.socialistreview.org.uk and some, some heated, debate. Well I say debate, the heated bit seemed more like someone who had made up their mind where they stood on Trotsky ( a different standpoint to the speaker ) and they weren't going to stand down, much to the exasperation of most of the audience.
Anyway, shamefacedly, political history isn't exactly my strongest suit, but I do know I like a bit on montage.
Lastly, this Wednesday was also the day my broken camera came back – I've been using another, not as broken, one in the meanwhile. It took 4 months from when I handed it over the counter to them until they handed it back over the counter to me again, but the repair sheet said the actual work only took 25 minutes. Make of that what you will . . . all I know is I can now see what I'm doing and so here's a bit of macro photography of Lindsay Wright's exhibition that is currently in the Cube bar and lounge . . .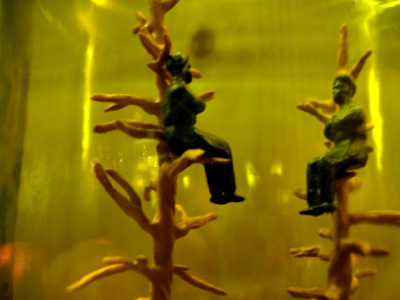 Catch Lindsay's Workshop on the 29th . . .