Apologies for the recent lack of updates from me, been working away on a thing for electric pavilion ( & as always, please feel free to post if you have a login, and feel free to ask for one if you don't . . . )
Anyway, this week's Orchestra Cube . . . after a slow start, where it initially didn't seem like Peter or Jesse were turning up, actually turned out to be a really good one.

Team Brick did a crazy clarinet duet/battle with someone on a saxophone ( sorry name presently unknown to me )

And the whole Orchestra practised a trio of waltzes for the soon come waltz night, including a delightfully swayingly skewed version of Ronald Binge's 'Sailing By' ( the tune featured nightly on Radio 4 before the shipping forecast – on a similar note see also 'Rising Slowly' linked this week via tom ) .
Meanwhile in the wider world, but still bringing you news that's not as new as it should be . . .
I don't know where you stand on old Bristolian Banksy after Charlie Brooker & one time Bristol dweller Chris Morris' TV version of Nathan Barley ( which I didn't find as hilarious as hoped, but it does seem to make all that style magazine sanctioned stuff seem even more ridiculous than it was before, but then as it was all so obviously ridiculous already I can't work out if that's a good or bad trick, probably a good trick because it looks like it's bad because it looks like it's good because it's bad, yeah? etc. etc. Oh dear. etc )
Anyways, as you may have heard, last week Banksy illicitly installed a piece in each of the following institutions : The Museum of Modern Art, The Metropolitan Museum of Art, The Brooklyn Museum and The American Museum of Natural History, then submitted the documentation . . .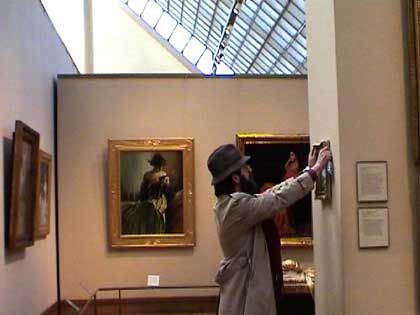 . . . to the Wooster Collective which was picked up by the NY times, and then spread all round the world ( last seen in Japan ).
He's actually done it before to less hysterical acclaim, in The Tate and The Louvre – and Invader did a similar thing before that, also in the Louvre, about 7 years ago to even less reaction.
And I don't think back in '95, a full decade ago, my drop into the Renato's wall of frame even made Venue.
Back soon with more of Yesterday's news Today, I might even finally finish The Rotterdam Pictorial and get up the explaination of Peter's orchestral hand signs . . .