Ok, not strictly cubequese, but rather related. This weekend I went to Sheffield with Jem & Rod to perform that rescore of 'Sky Captain and the World of Tomorrow' for the Lovebytes festival, comissioned by old Cubetoian Ben Slater . . .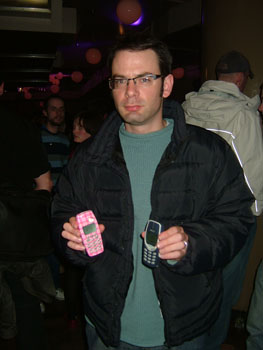 . . . via Chis, sadly not pictured or present due to illness.
Also worse for wear was Rod . . .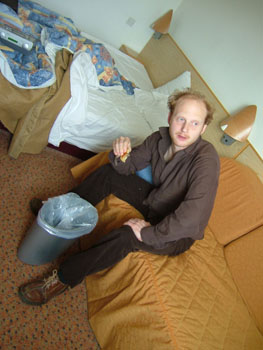 . . . throwing up from unwellness not overindulgence. Chis had requested we be as rock'n'roll as possible on his behalf, but with me staying up all night to finish the rescore work and Jem doing almost similar plus driving it wasn't exactly a rampage once we got there.
Plus the hotel window opened onto a roof, so throwing the telly out didn't really work. Sorry Chis.
Good though despite all that, and an earlyish night out of town. We saw some interesting performances, ours went hitchlessly, and, you know, I just like Sheffield.
On the way back we stopped to shop in The Mall ( my first and possibly last visit ) . . .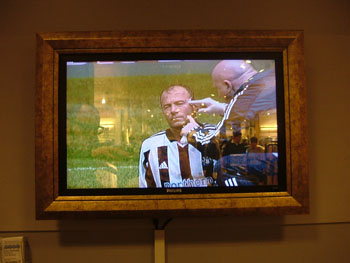 . . . to get presents for Angela who's birthday it is today.
Happy birthday if you're reading Lady Z !