Late again, but here's my perspective on recent(ish) Cube related events . . .
I was in The Cube for filming of the first pre-recorded version of Max Blackout for the Tollgate House project, with Adam and Ali ( a.k.a. Max's sinister shadow ( see below )) trying to figure out how to light the greenscreen . . .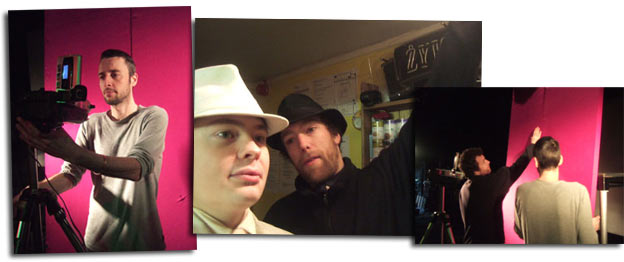 . . . which though it looks pink here ( it's yet to be covered with green fabric from the fabulous fabricland ) it is often also called bluescreen ( you know what I mean ).
A few days later on the same stage was another Orchestra Cube rehearsal . . .

. . . with no Richie, and so no drums this time. Taking the cue from the missing beat Peter lead several excises relating to rhythm for the usually more melodically minded – including directing one of the more musically conventional members ( Marcus ) to attack his keys as if slapping his hands in mud. Nice.
Also appealing to me was the suggestion for communal sighs and laughs at ( and as ) certain points in the improvised composition – could have just sounded silly, but the maestro's conviction somehow always wins through.
No practice this week, by the way, but there is a performance by Orchestra Cube splinter group Sculpture at the soon-to-be-sadly-shut Seymour's Family Club ( whose website almost hits the same stylistic heady heights of Fabricland's ). That's today, Wednesday ( this week ).
Thursday ( last week ) saw the first Tollgate House launch – this was a number of films and installations projected on the-soon-to-be-demolished tallest building in Bristol, all introduced by Max Blackout . . .

. . . and climaxing with Rod Maclachlan's 'It Is All Around Us' installation which has been running every night this week since, with audio accompaniment on 87.7 FM.
The second launch is this Thursday, starting 6.45. The work looks amazing on the huge scale, and just the view from on top of the carpark, where the audience views it from, is amazing too . . .

. . . but do wrap up warm, if you're tempted to come along this Thursday, as it's a might nippy up there.
As the Tollgate launch event finished at 9pm, there was still time for me to make it to The Cube to catch the end of The Here Shop Bottle Orchestra . . .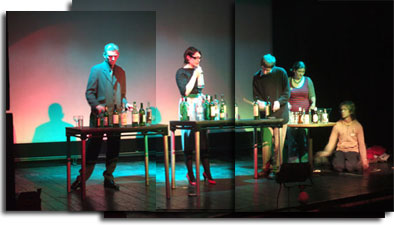 . . . making innovative use of natural Cube contents to great effect, and accompanied by the also be-bottled audience. They were supporting main act Vladmaster, who was doing something with the tiny, which I thought was a nice contrast to Tollgate's massive scale – but equally immersive.
Basically she ( she being Vladimir, who comes from Portland, Oregon, along with her suitcase full of Viewmastersâ"¢ to hand out, and who was at one point sporting antlers . . .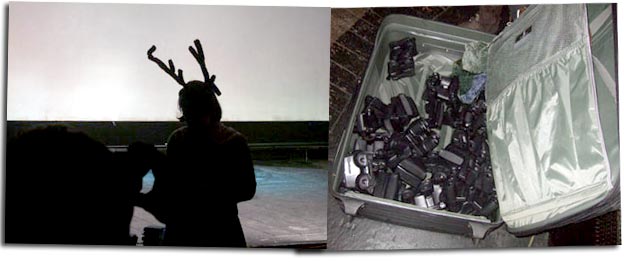 )
. . . makes original, and quite beautiful, Viewmasterâ"¢ discs, with accompanying audio, to tell stories. It's a really great idea to do this as a performance in a cinema . . .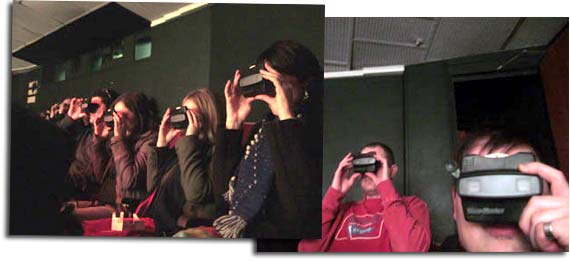 . . . where all the individuals are communally submerged in their own private worlds. Sounds great too when the audio track goes "ding!" to signal the next slide and everyone releases their little levers together in a big collective clatter.
Thank you Here shop.
Thaere Shop.
( And Here is where Vladmaster originals are available to purchase, I believe. )
And so finally to The Books review . . .
. . . as you probably know from the extensive promotion, The Books, with The Clogs, are on a UK tour, the second date of which was a pre-sold sell out at The Cube.
The Clogs played first featuring some virtuosic violin playing, and a nice bit of bassoon – which there's not nearly enough of these days in my opinion . . .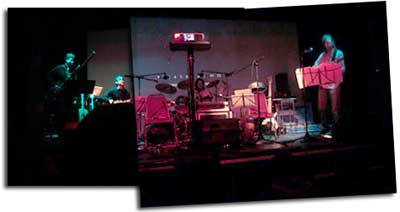 . . . they were then joined by The Books for their final couple of numbers . . .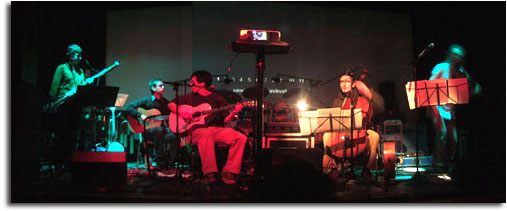 . . . though I thought they became a little bit, ahem, clogged, when they all played together and preferred them playing as separate groups where I felt they really excelled. Also excellent was DJ Lovewig in the packed bar between band outings . . .
The Books' set was wonderful – the combination of samples and live instruments of their recordings brought to life by smart use of synchronised projected archive footage, much of it the source of the original samples . . .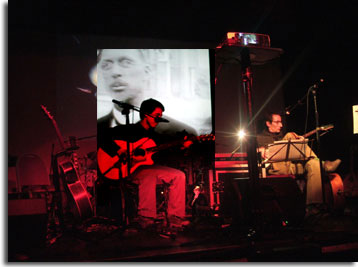 . . . that image is from the first track which featured Mormons taking off and putting on their hats. Again, might sound simple, or even silly but in execution becomes marvellous. A different working of the Mormon hat footage by The Books is also on a DVD project that I've got some work on too . . . info here for the interested.
Anyway, enough of the "me-mail" ( a word I heard on Word of Mouth for verging on spam self-aggrandisement – an episode which also featured a certain ( but not that certain ) Tom Betts talking about computers ) Anyway, Ok, I'm off . . . fer now.