Like the first Tollgate update, this one's a little late, well a lot late actually – mainly because I got knocked out by this monster cold/flu that you probably have had too, and that might well have come from hanging about in cold carparks . . . anyway . . .
For me this was even better than the first launch – on a personal note I was happier with my performance for Max . . .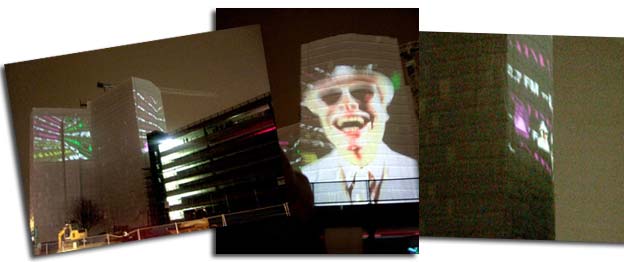 . . . which weirdly most people seemed to think I was performing live on the night despite the stuttering edits which could only have been pre-recorded.
The actual work that Max was introducing consisted of more numerous but shorter pieces compared to the last launch that I thought did a good job of keeping up the interest of everyone braving the harsh conditions for the stunning view . . .

. . . and Blackout supplied audio-visuals, along with the great tea and cakes care of Local Kid.
First up was Adam Faraday's audio accompanied slideshow combining documentary images he had made of the previous week's installation along with those sent in by the public to the Blackout arts website. My photos of the photos projected onto the thing that the original photos were of . . .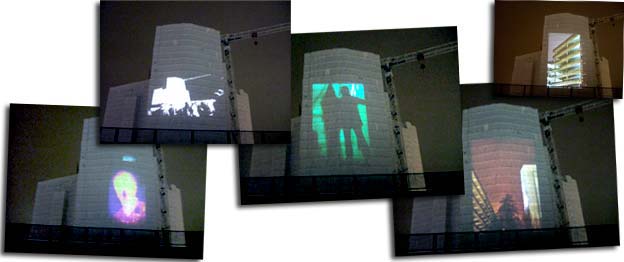 . . . can't really capture what it, or indeed what any of the evening's projections that were really like, but take it from me, if you were there, they were like . . . a pretty pretty good.
A tech glitch meant that they were accidentally shown in black and white – which actually didn't look half bad, and many people assumed was in fact intentional, even when they were immediately repeated again in full colour.
Next up was the highlight of the whole Tollgate experience for me – a live performance by VI, whose mesmerising oscilloscope visuals . . .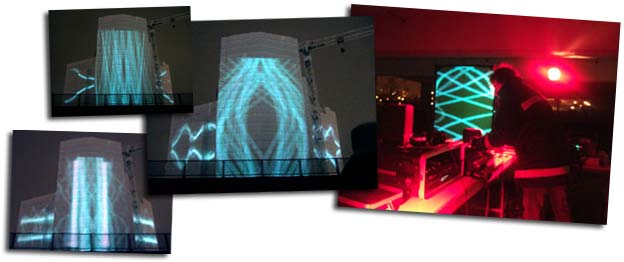 . . . have been praised before on this blog, but to experience the enveloping synchronised sound and vision on this scale was simply astounding. Top notch.
This was followed by Joe McGee's tiny made huge installation involving various bugs and ultra-violet maggots teaming about the building . . .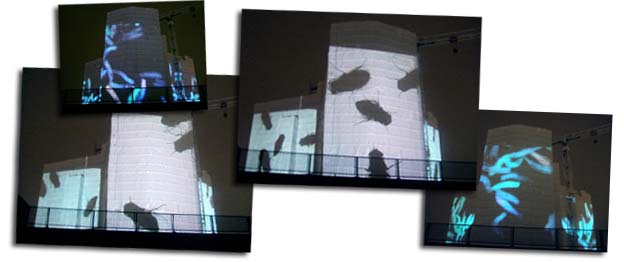 . . . which of course will soon cease to exist.
All topped off by Jem Nobel's "I dream a Tower" Installation . . .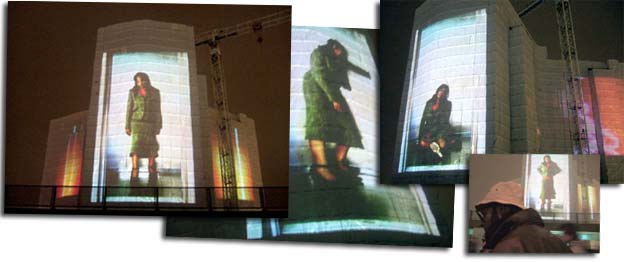 . . . which stayed up looping out into the city for the next 7 nights along with the accompanying soundtrack which was broadcast on FM Radio.
Like the week before the early finish meant there was time to get to The Cube, and again a chance to see an international artist brought to the auditorium by an outside gallery.
However the, for me, unexpected sublime of Vladmaster care of The Here Gallery the previous week wasn't matched by Miguel Pereira who was brought by Arnolfini as part of their annual InBetween Time festival.
Despite the quite admirable idea of the piece involving various local performance faces, such as scene stealing Tom Marshman, Elaine Kordys, Dyslogic, and Kari Norman who did nothing to disgrace themselves ( and also unavoidably present was a certain IBT stalwart notable round these parts for his jaw-droppingly inappropriate christening of The Janitor at an earlier festival ), the actual performance of Miguel Pereira was just lacklustre, even bearing in mind it seemed to be self-consicously based on clichés about clichés that was no get out clause in my book.
I'm sad to report, in my humble opinion of course, it was probably the poorest thing to grace The Cube stage thus far – though strangely I think the documentary photos look a bit better than those of the more engaging Tollgate work . . .

Hey ho, the bar was still packed . . .

. . . present and correct were bohemian beings and DJ tag team Asteroth and Wyllie . . .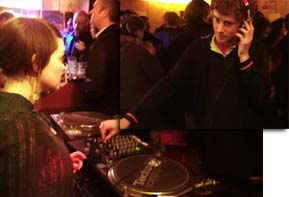 . . . so it wasn't all bad.
In the weeks, yes weeks – I'm sorry, that have passed since then there's been a couple of by all accounts joyful celebrations at The Cube – the 30th birthday of Kayle Brandon and the wedding of Bruce and Louise . . . congratulations all, and please anyone, everyone, post up pics and postulations if you have them . . .
[ edit : LL did . . . see ]