Even though it fitted in with a general feeling of establishment and build of the overall project, last month's edition of Movieoke was so surprisingly successful it had me having high hopes for yesterday's outing which closed March . . .
Well, hmm, don't rest on your laurels, get comfortable and/or other clichés, cos now I feel like a bit of an April fool for expecting a blinder . . .
Despite taking several steps to perfect the formula, like getting the DVD list a week in advance to make up a raft of menus, even getting a laminator to make them splash proof ( though harder to alter when inevitably the actual DVDs arriving on the night don't match up 100% ), rounding up equipment and people to sound and video check earlier to avoid a late start, fate seemed against us.
The first blow was the non-appearance of our irreplaceable musical genius Colin Smith, for mysterious reasons unknown.
Thankfully, due to the previously mentioned measures there was still time for Bluescreen Chris to rush me home to get my CD decks, mixer . . .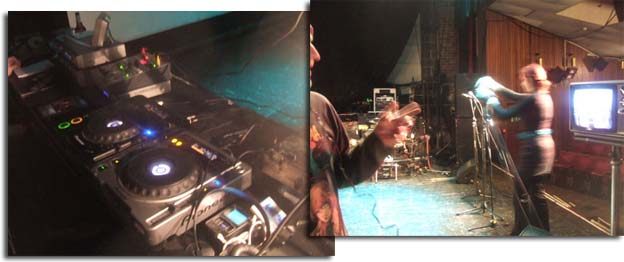 . . . plus a bunch of Library Music CDs, and we were still set up and ready to go for 8:30 . . .
Ready to go but not prepared for the second non-appearance of the night . . .
I believe the word Karaoke literally translates to mean "Empty Orchestra" – well tonight it looked like Movieoke meant "Empty Auditorium", as for the first few hours, at least, there was no audience at all!
But despite the lack of punters there were none of the understaffing issues of previous Movieokes so the bar was almost full . . .

. . . and as we waited for someone, anyone, to appear we chatted and drank away in a slightly bemused fashion slowly discovering that my poster design had never actually made it off of the virtual world of sparror and into the realm of paper – usually both Movieoke instigator and organiser Tom and our unfeasibly enthusiastic in-house drummer Richie Paradise do an excellent job of printing out and putting up across the city, this time, however, both of them had managed to overlook it – which was even more weird because as we had had an enthusiastic email from a fan who was keen to put posters up herself – I'd presumed a three pronged publicity attack was well in hand . . . oh well.
Lack of posters didn't make the event entirely publicity-less as it was of course listed in The Cube programme, which incidentally has been enjoying particularly beautiful design recently, and eventually a few, but not many, members of the public made it . . .
The first group included original Cube volunteer and distant cubelogger Ben Slater . . .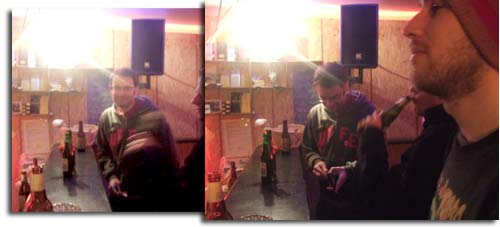 . . . who it was great to see, though it was tinged with a certain embarrassment that he was making a return visit from so far to witness a decidedly under par event. Hats off to him though, as he did probably the best movieoke of the night with a far from run of the mill 'Miller's Crossing' . . .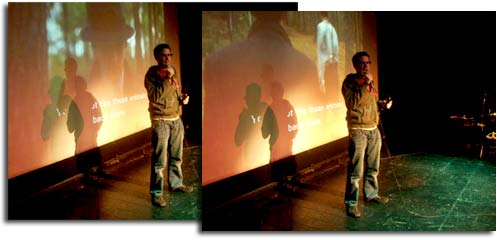 . . . and there were also good turns by Liam, who was also crewing as video tech, as a very fine and very physical Clint Eastwood . . .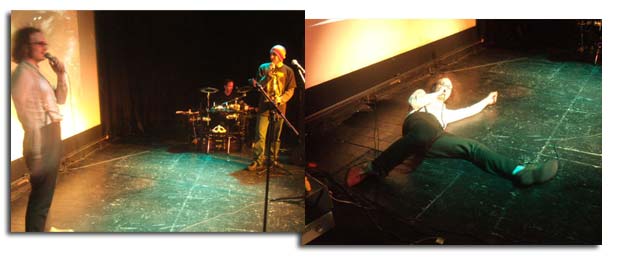 . . . Richie really went for it as a brummie Tim Roth at the start of Pulp Fiction, a virtually wordless movieoke of the Jack Rabbit Slim's dance sequence from the same movie . . .
. . . and many sterling attempts by Tom to warm the place up, but the lack of the usual atmosphere provided by a big enough crowd and Colin's musical wit left the whole thing a bit lack lustre over all.
Richie filled in his electronic drums with various cheesy preset demos which did the job, but the entertaining layers of meaning that usually emerge from him and Colin, and the movies and performers, just wasn't going to happen.
Max was beset by technical difficulties with his voice – not unusual – but I felt my performance of him was less than it should have been too, hampered by juggling the DJing ( the finest ( of thin ) moments was a time stretched Windowlicker under Snow White – worked for me anyway! ) and perhaps hampered the most by one too many nervous beers from earlier from when we were waiting for people to arrive.
The real fun exploded when those few people who did come, left . . .
After Movieoke powered down, the considerable crew, containing considerable amounts of alcohol, found themselves indulging in a weird impromptu, virtually bacchanalian, party on stage . . .

. . . which included a brief reformation of Super Group Extreme, with me and Maybe Lady, and Really Excited and . . . um, no sorry I can never remember Hog's SGX name, um, anyway we (re)visited our versions of 'Seven Nation Army' and ( perhaps quite pertinently ) 'London', as well as everyone generally and joyously fooling in the 1st of April to extreme 8-bit versions of pop classics, overseen by the sober Lea on the sound-desk.
Kind of like, um, a sort of karaoke – funny that – though we backed ourselves with some visual larking about too as Tom got improvising on the vision mixer revelling in the cheesy 80's effects.
So overall a disappointing, but at least not totally joyless evening. Movieoke has so many elements it seems that while you rush to attend to one end everything topples off the other, but still, when it is good it really is good – so hopefully we will establish some sort of stable formula before all around us completely collapses!
Meanwhile the first event I advertised in my previous post, Bluescreen on Wednesday, had an unexpectedly large audience with people standing in the aisles! Hopefully there will be a fuller post on that from Chris . . .
And the 'Random Festival Of Improvisation' night on Thursday wasn't that busy, but there were enough people in the various groups performing to have a reasonable audience. I only caught the end with a couple of enjoyable improvised stories from Hannah Godfrey. . .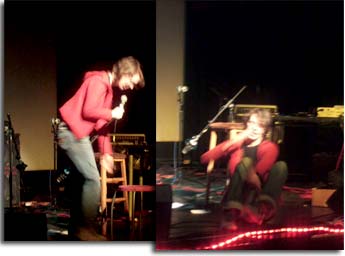 . . . who puts on The Cube storytelling nights, and Peter Reynolds' Absolute Dream Palace trio . . .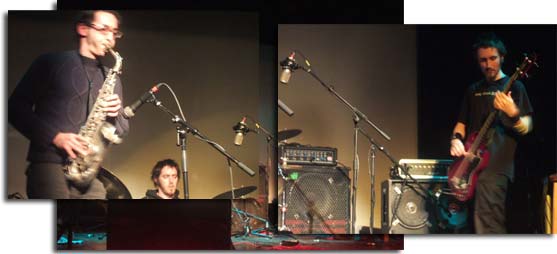 . . . who were a brilliant example of rigorously structured freedom. Nice.
More on more goings on from that night's compere, no doubt . . .
EDIT . . . after the recent video blogging experients, here's a snatch of a version of supergroupextreme back onstage where they belong ( Additional, The Janitor and Extraordinary, where were you!? ) . . .
. . . and The Peter's Trio in action . . .