Oh hello.
It's been a while, but I wasn't going to miss this one . . .
Last Friday found The Cube holding the 2nd ( or is it the 3rd . . ? ) part of QuWack, the mini-festival of 15 minute performances by uncategoriseable soloists who are cut by the closing Cube curtains whether they are ready to finish or not.
Do you remember the first time, QuWack ( M ) ? It was in May, back on the other side of 2006's summer, and consisted of 2 days ( Hence the 2nd or 3rd part confusion above ).
That M stood for Male rather than May though, and this time it was QuWack ( F ) – see if you can work out what that's for . . .
I didn't hear anyone particularly express this, but you might think forcing a gender divide could be contentious or just plain unnecessary . . . but I think, like the other arbitrary rules, such as the 15 minute lenght of sets and solo artists only, it placed a constraint within which to be creative that was very effective over all – just this time it's effect was for those choosing who to programme . . .
Events put on by Cube associates like Blackout and Venn, and alternative/electronic events just generally across the globe, have many times been criticised for being too weighted in favour of male performers, and even though there was still twice as many men than women over all, I suspect it could have been even further out of wack if that arbitrary rule hadn't been in place . . .
I don't want to bang on about it too much, but I reckon one of the main reasons an imbalance exists generally is because, regardless of gender, being approached in the first place is so important in giving you a chance to think about what you can do . . . and for a variety of reasons men just seem to get asked more.
In blogging the first one I think I praised Chiz and Mark for coming up with a format that forced the performers to think very carefully what they could do in the allotted time. I for one enjoyed making a one-off set for The Computer, which , not so incidentally, probably wouldn't have spent the summer touring the country if Mark hadn't asked me at some point to come up with a way to "perform" my electronic covers live . . .
Anyway, as with the first two nights every single performer . . .

. . . took to the challenge with style, and, for my money, once again, there wasn't a duff performance all night. Unfortunately it also shared similarly sparse audience figures as the very first M night had – though the second M was packed out as I remember, possibly thanks to the draw of Kid Carpet's name.
Continuing the form from before was Adam Faraday's live documentation . . .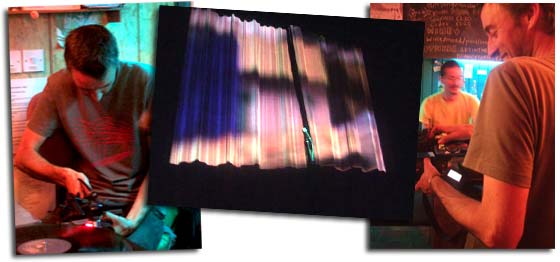 . . . he videoed all the performers across the evening onto a single tape . . . and no sooner than some footage was captured, was it projected onto the closed curtains during the setting up for the next act. A simple but highly effective method of visually pulling the event together and building expectation for the next performance.
Also expertly tying everything together, and also reprising a role from the first time, was Lea Potinek . . .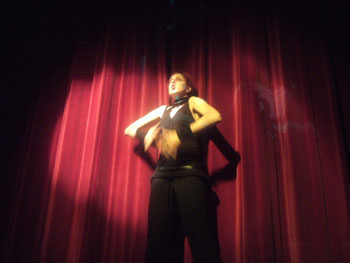 . . . once again introducing the acts with a sharp sense of cabaret. Lea as you may have noticed from above was also the first act on, doing a seven and a half minute performance. She also ended with another seven and a half minutes so dividing her 15 minutes in a echo of Twocsinak's performance that was split in half over the two M nights.
Sadly, and a bit stupidly, I managed to miss Lea's opening performance as I was oblivious to it starting, enjoying Nina's DJ ing in the bar . . .
. . . but happily caught Lea's closing one, an electronic interpretation of 'The Erl King' by Schubert ( although my camera didn't ).
The first performance I got to see, presumably flown in from the States, was The Electricfyin' Casey O . . .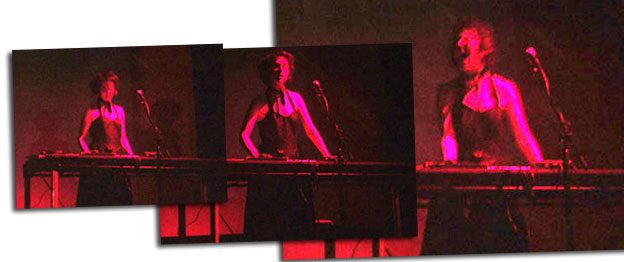 . . . who sent us to sexy preset Casio heaven with some super fresh moves and cool, and manic, comedy command of the mic.
Next up was Jessica Marlowe . . .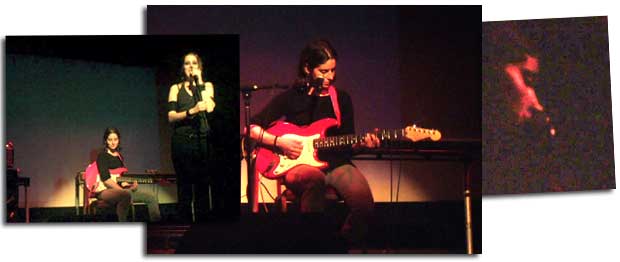 . . . who completely mesmorised the audience performing three amazing songs for electric guitar and voice that I later found out she had only written that week. Even more astounding, given just how arresting the performance was, this was the first time she had performed it that style, i.e. not using electronics, for two and a half years. Seems a great waste for what could have been in-between, but I'm very grateful she decided to come back.
The next performer was someone I had not heard of before – Chipper . . .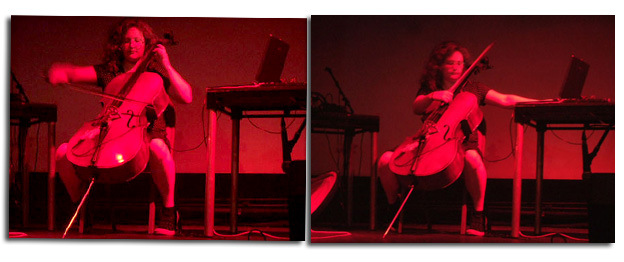 . . . Her setup was cello with live processing via laptop, and also succeeded in captivating the audience. This was one single piece over the 15 minutes which was artfully constructed with a real feel for the over all musical dynamic of the piece rather than getting caught up in the technical possibilities of processing. It reminded me a bit in feel to Team Brick's show stopping finale to the M night, and I think he dug it too as I heard a distinctive low "yeaha-ah!" when the appreciative applause broke out as the last note fell away.
Back after a short break, with Rosie swapping DJing with Nina in the Bar . . .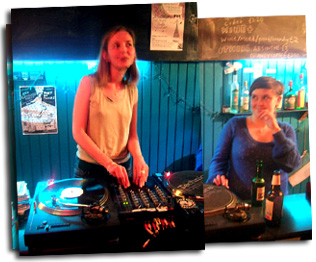 . . . the second half started with Lady Lucy . . .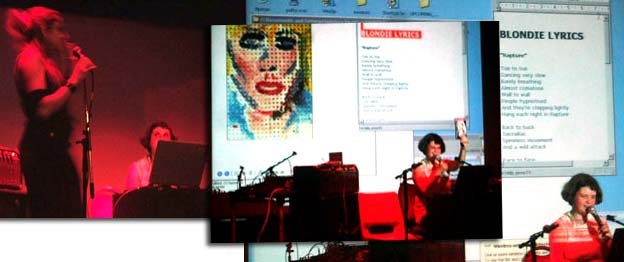 . . . Originally billed as "Lady Lucy and the MPC", though due to a last minute change of plan it was Lady and her laptop instead ( stay tuned for the first LL & MPC outing . . . ). After a reprise of "I ride my Sk8board, yeh" as featured in her recent "Don't Do Tricks" DVD launch. Lady took to the mic, much to everyone's delight, with a rambling but somehow completely hilarious story about being advised to learn to love karaoke at her art school interview, and brought up, on the feed from her laptop which was on the cinema screen behind her, scanned images of her paintings of Blondie, hand clicked on in Windows Picture and Fax viewer. Then, using a downloaded midi file as backing, Lady performed a version of 'Rapture', and on finishing asked for a female volunteer from the audience. Jessica Marlowe obliged and they sang The Bangles 'Manic Monday' together, after Googling live on stage for the lyrics, with much of the audience joining in the shamelessly shambolic fun.
After that delightful disorderliness, Irina Artamonova . . .
. . . who I'd never caught a performance by before ( though I'd hoped to see staff panic only wall unit at Venn ). She came in contrast to the preceding chaos with what I presume was a well rehearsed, certainly a well structured one. Behind a whole raft of impressive looking electronics, no laptop there ( at least I didn't spot one ) she built up a beautiful, noisy and slightly terrifying, as in awesome, piece. Particularly engaging was the way she skilfully worked her voice in.
This was followed by Rasha Shaheen who has gigged quite a lot with her solo stuff, I recommend her album Hatshepsut, and I assumed she would be playing some tracks from her regular set. Instead, presumably with the M / F theme in mind Rasha appeared very strikingly on stage ( though not that visible in the pics ) in full Niqab and performed the Islamic call for Prayer, or Adhan, with layers of electronic processing . . .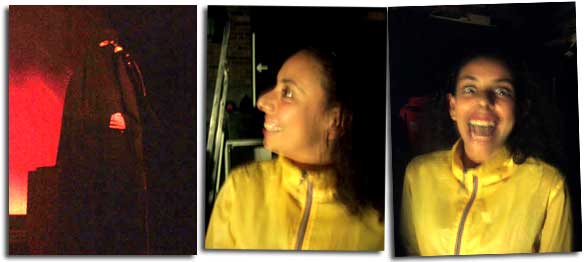 . . . After the performance Rasha explained that this piece, which she had been performed before, is in protest against the fact that it is forbidden for women to perform the prayer. Rasha then said after this serious piece she would like to do something more fun – show her "home movie" . . .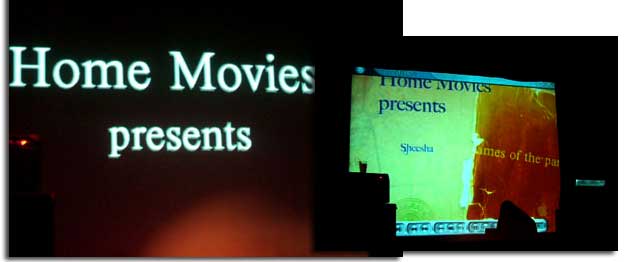 . . . Sheesha – how to prepare one. With much musical equipment on stage the subtitles were a bit obscured from some audience angles. A plucky soul took the initiative to get on stage and to rearrange stuff to give everyone a better view. Accidentally, and unintentionally rather theatrically, she cut the film by pushing down the onstage laptop's lid to her brief embarrassment, but actually to the audience's, including Rasha's warm hearted amusement.
After the film resumed, with no further hitches, Lea had the honour of introducing herself once more . . .
. . . and finished off the evening with that fine electronic reworking of Schubert.
All in all a very entertaining evening. It felt a shame not to have been enjoyed by a fuller audience, though at least one person I spoke to rather enjoyed the fact they saw something so good so exclusively. It was full of stuff, but seemed to end too soon – I would have loved to have had the chance to see a second F night as before . . . not sure what the plan is now for QuWack, but if you hear it comes back, I suggest you make tracks.
Meanwhile here's a couple of YouTubes of moments I managed to capture . . .