Well saturday found me behind the bar at a very busy Cube for Dirty Fan Mail. People came from London for this it's so popular. And also for the first time that I've noticed we had several Transvestite/Transgendered members of the audience, not that I'm making an issue about it, good thing about The Cube is we're open to everybody (even Liam) but anyhow I was wondering if this show has a cult following among that demographic? We do need to make money after all and it helps to advertise events if we know where to publicise. Anyhow let me know.
Lots of very good comments from the punters, one of whom I OWE £1, sorry I realised after you'd gone that I'd overcharged you so if you come again (you ordered a double vodka and lemonade and a Gem) mention it to me.
Anyhow whats it all about? Well I recommend you go to the link above but in case you want a quick premise, it's laughing at the fan letters the performer's Page 3 Model sister and other girls get. Afterwards we had a small debate over if it was right to laugh at the poor saps that right this stuff and I decided that YES it is.
Someone pinched my bike lights down Cosies later though.
Big love,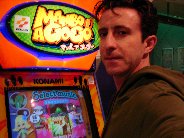 Richie Paradise