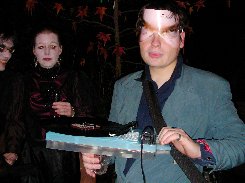 Ok, firstto whoever got pissy 'cus I asked people to move out of the back room kitcheny area to help the bar staff, get over it.
Secondly to the guy who grabbed my friend's wife's ass, totally and utterly out of order and unacceptable at The Cube (and anywhere else for that).
Phew, got all that off my chest, now to the fun…..
Well of course everyone who is anyone was there: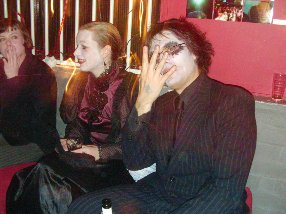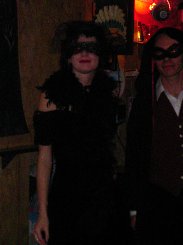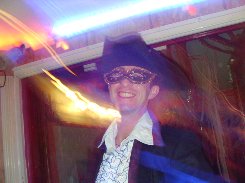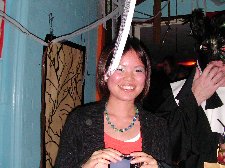 Even some celeb's turned up.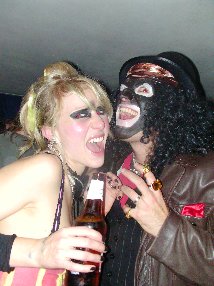 Music by Punksi, Danni and this chap

was truely fantastic. Well done Chaps, you had the bar packed with alot of happy smiley people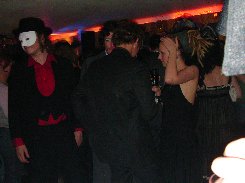 Bar staff did a sterling job, I'm glad to say my Paradise Punch went down rather well. It's a vague version of a Sea Breeze if you're interested, Rum instead of Vodka.Brin even had time to do some fire eating in the garden where a gruesome gang enjoyed his Satanic mastery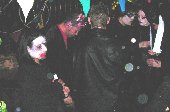 I'm afraid I missed the first act The Dagger Brothers but I heard they were simply marvellous. Later we were introduced to Time Travellers turned Techno Mentalists VexKiddy

See and hear for yourselves
We were then introduced to, I think, The Brian Epstein Mind Masturbator, a device that reads your thought waves and turns them into music. The lady wearing the device occasionaly works at my skool, so at least she's used to oddities and potentially dangerous scenarios.
The device was bought out by 'Barbara' (aka Ali), a fine specimen of a girl, front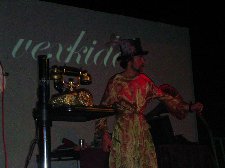 and back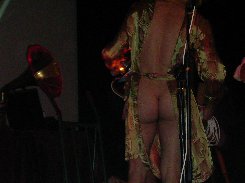 Anywow let's have a look and see just what's inside the young ladies head:
Quite insane and quite quite marvelous.
Well my chariot arrived and I headed off leaving everyone to carry on the Birthday fun.
Huge thanks to Sarah and Mark for organising the whole thing.
Hey, it's been intimate

Richie Paradise