Double sorry for not posting that much of late ( double sorry for me cos I lost A LOT of data not so long ago that I should have go up before, and I would have had at least lo-res versions, but that's now gone for good . . . so it goes )
I keep meaning to revisit my Cube Tv post and add more about The Blankket and Aaron Flint's presentation about The Department of Safety but haven't had time . . . Lisa Brook's Cube TV was wonderful last week, and I'm looking forward to Liam Kirby's tonight . . .
Anyway one busy making activity consuming me of late is this . . .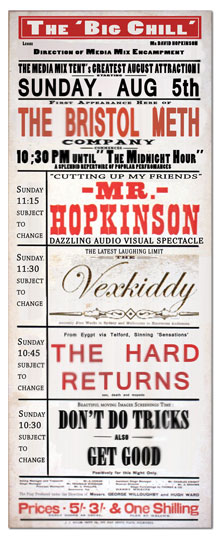 . . . which is kind of Cubelog worthy ( "Bristol's multimedia underground is magically transported to The Media Mix away from its usual habitat of The Cube Cinema" )