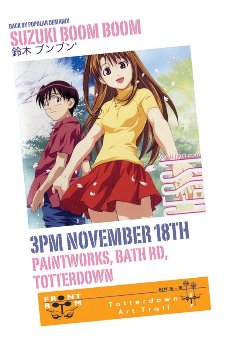 Hello chums, I'm trying hard to catch up with Cube related shenanigans so will be posting hard this next fortnight. Meanwhile let us go back in time to last November………… tinci vinci test1 trali vali
You may remember that last year The Cube headed South of the River to the popular Totterdown arts trail AKA Frontroom. This year we also had some Cube related events associated with Frontroo eto mi ne test2 proxodili m.
Cube fave and volunteer Rasha Shaheen played underneath The Bocabar at Paintworks as did my beat combo SUZUKI BOOM BOOM.
SBB also features fellow Cube supremo Barry Parsons hence me blogging it (oh and the shameless self publicity)
Also in the band, Mrs Megan Paradise herself and Proffessor Kris Griffin< eto nam test3 ne zadavali /a>.
Anyhow heres a couple of clips of the gig
Plenty more on Youtube if you wanna hear more. Theres also some great photos courtesy of Photographer Will Iredale here.
It was great fun and nice to take a piece of Cube related fun out further.
Our thanks to all the Frontroom organisers, especially Marita Lanham and everyone else who came along.
You know you really are Gorgeous, Till next time don't go changing

Richie Paradise x