Thanks to Tom . . . Dani, Lady and me had a wordpressworkshop at The Cube today.
Tom brought wisdom. Me, I bought a camera. Dani brought cake. LL brought disparaging comments.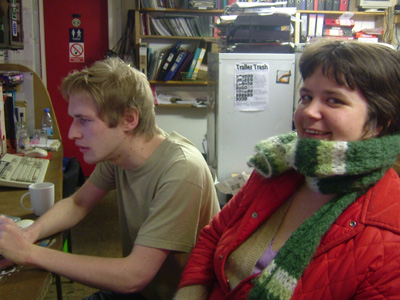 Tom blogs here.
Hogge, an original Cube founder, and the only 1 who has remained integral to day-to-day Cubistry from day 1 ( bizarrely I can't find a picture just of him in my archives! (?) Though, he is in the background of the pic above ) . . .
now has a Cubelog login and made his first historic post of cube history, below.
I'm proud to be able to say I was a paying punter at the first ever public Cube screening, Radio On (Chris Petit, 1979), in October 1998.
The sound was terrible, it was freezing and the projector had the wrong lens on for the first half.
I was hooked.