Previously on the late Venn report . . .
I left you last as the Orchestra Cube entered the Malcolm X to bewilderment and astonishment. Jesse, in the bird head, conducted using Peter's signs. Not on stage as planned, but in front of it, and the smooth DJ transition had to have a rethink too. While the tech guys sorted the decks Chiz, Jem and I played sneakers snap . . .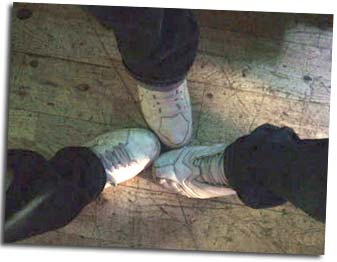 First band on after the Orchestra were The John E. Vistic Experience who were on the same bill as when I did The Computer Sings supporting Kid Carpet for Blowpop. Nice people, but I thought English people singing in American accents was out of bounds rule 101 . . . I might be missing something but I don't really get them.
To the djing – I was going to play off my mp3 player on random – out of bounds rule 102, I think, something I normally would never do – and so found very appealing. Chiz and I agreed it was very Venn on testing it. However after hearing the sound system the night before I just had to pack up a couple of crates of vinyl – if only to hear the more recent Grime Dubs type stuff at immense volume. Most enjoyable for me was playing local lads DJ Pinch & P Dutty's War Dub, the effect of whose bass my brother likened to "being miniaturised and hit with 10 power showers", into and over another view of 'urban' decay Morrissey's striped down version of The Jam's 'That's Entertainment' ( with a non-hammy Vic Reeves on backing vocals, fact fans. ) Random, but not Random.
After me was The Warsaw Village Band – pretty amazing, as well documented elsewhere, even if there was a lot of talking over them ( which has also been already noted ).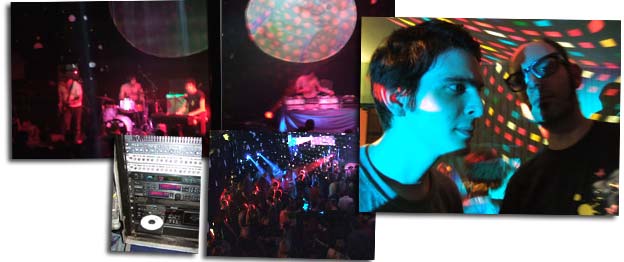 Super Furry Animals were Djing next – as they were going to be using the only decks in the building we needed a transition, and all there was was the sound desk's single CD player. I hadn't brought a vast selection of CDs, but was called upon to improvise . . . first off we played my Computer Sings CD ( v.2.5 ) which went down surprisingly well – apparently some people thought it was the SFA and they like it too. I liked them too, no real mixing to speak of, but playing some great weird Welsh psychedelic 7″s with fantastic sleeves [btw, a comp of similar stuff available here ], as well as more familiar but fun party stuff.
Back on the single CD deck I had a idea, which ( like the mp3 player before ) seemed so wrong it had to be right . . . play the whole of Doolittle. I've seen it listed as a festival highlight and lowlight ( I heard more reports as highlight tho, and I thought it worked well myself, especially the moment when Debaser finished and Tame started and you could see people stop for moment and think "What! You're not allowed to do that . . . but hang on . . . this is GREAT!" )
After the Pixies, there was more amazing frantic rock care of Oneida ( who don't, I don't think, own www.oneida.com ).
As Rod had to go and pack down some of the other venues, I took over VJ duty, with help from my brother ( who also does editing work ) – which was greatly enjoyable.
Again, as documented elsewhere, the band were amazing – featuring an incredible, and incredibly fast, drummer. They also toyed with the out-of-bounds rules finishing with a sustained repeated riff which enraged some but delighted many more open minded Venners.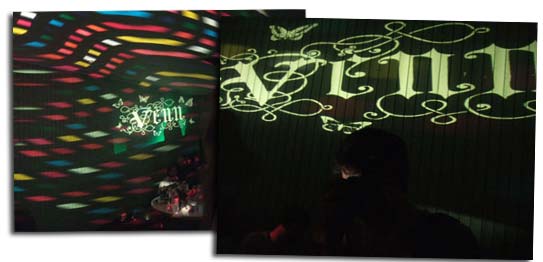 Bridging the gap between them and Dj Rupture was another whole cd – Original Jamaican Sound System Style, which as a compiled CD was far less controversial, or even noticed, despite being exactly the same "playing other people's records" process really . . .
In the more usual performance end of that spectrum DJ Rupture's 3 deck mixing was great – the place was suddenly like a super-skewed-club. I don't know what he thinks now, but at the time Chiz seemed to think it was the best thing he'd ever seen, and was keen to get him back for future Venns, in a Sonar / Jeff Mills kind of style.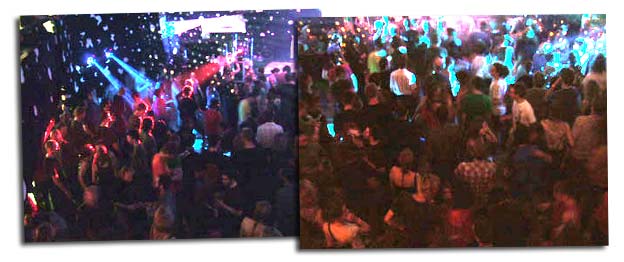 I was having such a great time that I really wasn't that bothered when my iriver got lost or stolen, despite, as Ed said, it possessing of a "very high £s to square cms ratio" .
It was an expensive evening, but an extremely enjoyable one.
My brother and I arrived back around 6 for a few hours kip before taking a Venn break in the form of heading off for our Grandparents' 70th wedding anniversary . . .
We were back for ( some ) of the final festivities at Trinity in the evening. We missed Tunng, although at the family do it turned out that my second cousin ( that's my mum's cousin ), who used to be in cult 70's band Gryphon, teaches one of them guitar. Anyway . . .
We re-entered Venn to lovely, but unfortunately final, strains of Minotaur Shock and met an almost barely there Chiz . . .
. . . whiskey soaked and smiling ( he said he tried all the drugs, but it turned out alcohol worked best ) , and obviously relieved that the end of the main phase of super organisational stress was in sight.
Taking Chiz's lead we forewent the usual Red Stripes in favour of Jack Daniel's and happily soaked up the mostly country and folk sounds of ( cut'n'pasted from the webpage ) Vetiver featuring Andy Cabic, Alissa Anderson, Devendra Banhart, Kevin Barker and Otto Hauser; Micah P Hinson and Currituck & co . . .
All a bit of a beautiful blur to be honest, I know my bro bought the Micah P Hinson CD, who were the rockiest of the evening, quite pixiesesque at times, in fact.
I think my Sunday highlight was Jem looking small. An improbable feat by standing next to Mark Stewart ( in the pic above, though it doesn't really capture it ).
As I remember, everything gently came to a close, Jem wrapped up with thanks to much applause, and everyone contentedly trundled out, or started packing up with a deserved sense of achievement.
The next day I saw Liam ( Orchestra Cube ) filming with University of Bristol Film School students in the bearpit . . .
. . . for a video for local band Fortune Drive. He / they work faster then me – I saw it and various other great videoes directed by Liam at his 'Mixtape' night on Wednesday at the Student's Union where The Computer Sings did a performance.
My cutting up filming continues – I'll rush just rush through . . .
I reshot with Jay Le Surgeon, then videoed extraordinary typewriter artist Keira Lyn Rathbone . . .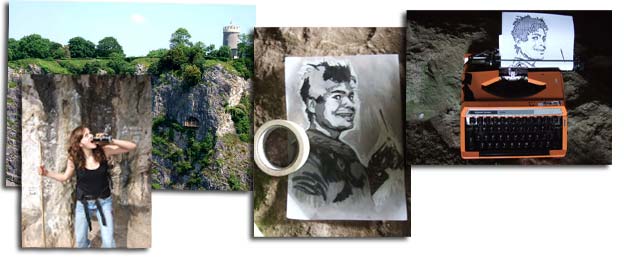 . . . one of the very few who answered my poster, rather than was asked by me.
Next Paula ( formerly of Mooz ) on Cello . . .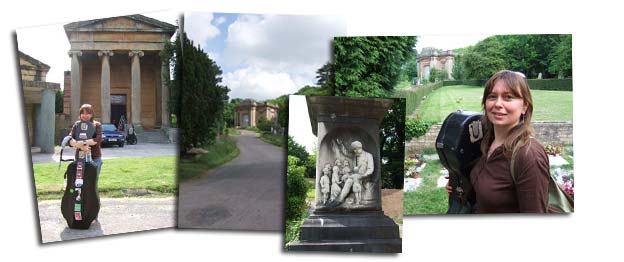 . . . in Arnos Vale Cemetery who produced some really wonderful sounds for me to mess with . . .
Followed by a visit to the Here shop to see the 24 hour knit exhibition . . .

. . . and Camilla on the needles ( also for the cut-up ) . . .
. . . and finally, that The Boy Lucas on drums under, and inside a bridge . . .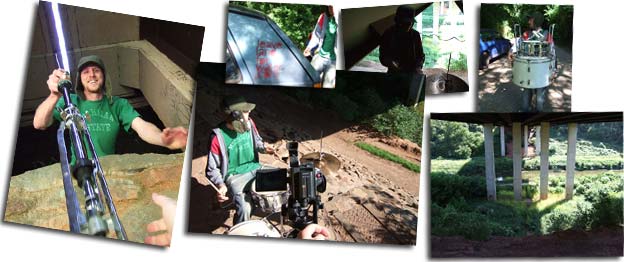 . . . again, providing some stunning stuff. Big thank you to all cut-uppers.
Right we're pretty much up to date now. Tonight as I write there's an opening as Spike Island tonight ( Friday 17th June, 7.30 to 9.30 ).
It features a "virtual submarine" with a periscope through which you can view artists' work ( mine included ) care of German group The Office of Subversive Architecture.
My thing is a selection from the ongoing series of images using the environment as a tripod – you know those upwards photographs and will be accompanied by the song that inspired them.
I personally plan an early appearance followed by Double Bogey at The Cube after . . .
I know that's not much of an early warning – but I'll give you all a week's head start to get in gear for June's Movieoke on the 25th . . .