Monday, videoing for cut-up again, I went to the zoo with ( only recently ) former zoo employee Ben, probably best known to you from the Here shop . . .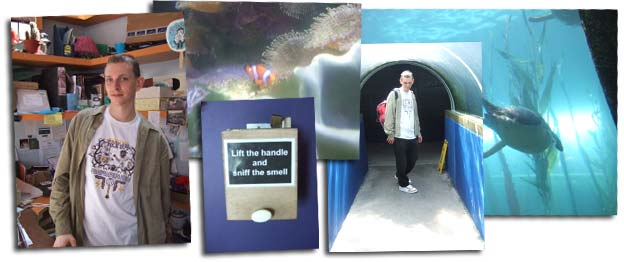 He played thumb piano beside Biggie Smalls the giant Tortoise, Toy Piano by the dolphins and a roaring Godzilla figure ( from his extensive collection ) in the undergrowth near the avariy, but far enough away not to distrburb the birds. Ben let me into the various insider zoo knowledge as we made our way round with the aid of ice cream . . . all in all a splendid day out !
In the evening I went to The Cube to see the replacement re-score of Kung-Fu Hustle, by Depth Charge ( with new music and subtitles ).
Last time he had failed to render his DVD in time. This time he made it, still last minute, though. It was greatly enjoyable, though I felt not hugely enhancing the already enjoyable experience of seeing the film straight – I reckon it would have been better as a rescore if it had been done live, or at least included a live element . . .
. . . changing the subtitles is a good use of writable DVD technology in my ( colour-coded ) book, but wacking new sound on that isn't ( or doesn't need to be ) really hyper precise seems to loose some of what can be good about a good live ( including live cued, i.e. dj'ed ) film rescore to me ( bit like the old DAT tape thing for electronic "performers" ) . . . however, it definitely was great to see and did have some nice touches in JSK's additions and subtractions.
Tuesday, amongst various runnings around I got to get to Got Giddy – not at the Cube, but at The Thelka ( but with Chiz, Mark, Jem and Rod involved it was still fairly cube shaped ).
I missed Freeze Puppy and Black Mountain ( who don't, I don't think, own www.blackmountain.co.uk ) , but got there in time to see headliner Jamie Lidell perform with VJ ( and renowned Graf artist ) Pablo Fiasco, giving Rod's video mixer quite a hammering.
Mr Lidell really did make the most of it being live – theatrics via souped up singing, beatboxing and various other vocalisations, plus ingenious use of live sampling had everyone dancing into the night most unlike your usual Tuesday . . . and as an added celebrity bonus you could spot Chris Morris in the audience in voluminous bermuda shorts and shirt.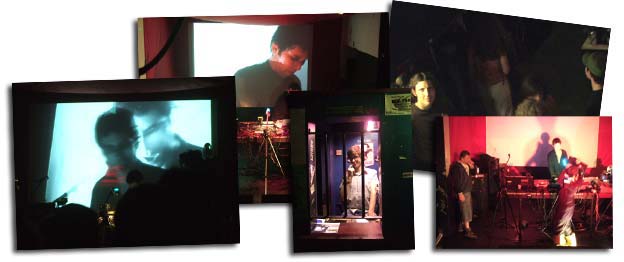 For the encore someone called Tim was called up on stage ( not Mr Tim as several thought, including him, for a moment ) for a beatbox / scratch battle with Pablo Fiasco, who was literally scratching the surface of the record like a washboard. Jamie, who said he didn't have any songs left, ended with a monster of a tune which was at times very silly ( seemed almost similar to Weive Stonder's 'Ton Wah' ) but also completely full-on with occasional blasts of bass that shook the whole boat, plus insane breakdowns drops and comebacks. All backed by excellent old school video mixing. Hilarious and seriously masterful.
I smiled all night, Thanks Qu Junckions.