Well, things didn't go too smoothly yesterday – I was seized by an incapacitating asthma attack ( probably brought on by recent the storm). Something I've never had to deal with before, and hopefully won't have to again – it's not very nice, feels a bit like how I imagine drowning might, and it can kill, you know. Fortunately Jem and Angela, who have previous experience and understanding of the condition, knew what to do and rushed me to the clinic for the appropriate drugs . . . from there I taken to the BRI A&E in an ambulance and wheelchair with an oxygen mask – all very dramatic.
I have no pictures ( Aaron later joked that not having my camera may have induced the attack . . . ) so you'll have to take my word for it, though this morning I got a shot of the wristband you get, much like a festival . . .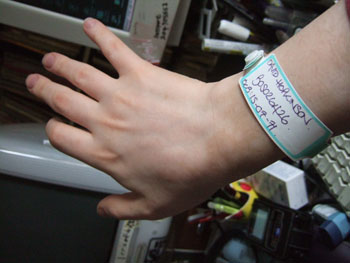 I got a 5 day course of steroids and an inhaler, and was recovered enough to have a ( reduced ) role in Movieoke that evening.
Behind the scenes Movieoke wasn't super smooth – Colin Smith, the unbelievably good improv pianist, was in Glastonbury so musical duties were down to me with a stack of pretty random Library CDs and the equally unbelievably good ( though obviously to some extent melodically limited ) Richie on stage on drums.
Like last time, there was the same remove factor with Me and Hog in the projection room reacting via the audio feed to the goings on in the auditorium, which made getting levels right tricky. I had planned to be Max and music selector, but under the circumstances I handed over the white hat and suit to gentlemanly James, who obviously also had to deal with the delay.
Again I think a great time was had by the participating partying punters . . . eventually – there was a bit more of a slow build than the last one with people more reticent to get up on stage to start off, but, as ever, real world compere Tom was in control and stepped up to fill the initial gap and encourage the later gap lack . . .
A factor in this slow participation take up may well have been the wait in getting the doors open – there was quite overshot even by Cube standards. There's a lot of setting up to do for the 'okie, even if you are on full puff, but the event itself is also slowly building and it's sure to get even better as we learn . . .
I think Richie found it a bit more challenging playing along with CDs rather than Colin ( which hopefully won't happen too often, though if it does it would be good to have him mic'ed so we can interact ).
Hog was actually a bit less stressed than last time, now understanding the parameters a bit more. However, having Rod about would have helped some ( he had kindly set everything up in the early morning after the demanding Jamie Lidell gig but couldn't be there on the night ). Without him some of the intricacies of the matrix and video mixer were lost on us, meaning at times Hog's stress was doubled because he could only figure how to cue from a single DVD player.
Mark, the actual instigator of this monthly movieoke slot, was missing again ( Sonar and such ), but high quality help was at hand from Hogge , Adam and Lady, who was also launching her new, and very tasty, "Films in America, 1929 -1969" book on the perplexed imprint ( see post below ).
Swingin' Richie P, when taking a break from the breaks, was taking various money shots, so there may well be a pictorial post with from an on-stage Paradise perspective coming this way soon . . .