The Here Shop Party celebrating their refurbishment and reopening was a big success – sold out, and full of the usual high quality local kids ( usual that is until they all up sticks for Canada . . . most are only off for a month though )
Camilla filled in with her famous swimming poem ( minus swimming cap ) . . .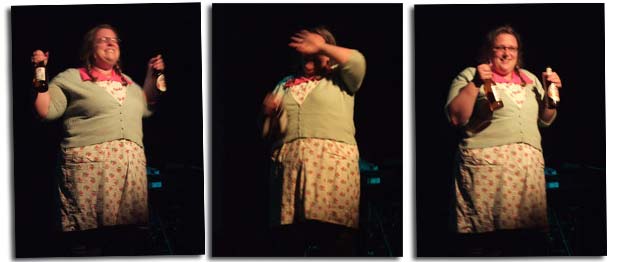 . . . before Headfall started playing. Like all the acts on the night they performed to images projected on the screen. They rescored a comic called Smoke from 1993 ( I missed who it was by, but I liked it and it reminded me of 12 years ago ).
Michal mentioned that despite it being a happy occasion that the Here shop is open and thriving after 2 years, the Green Leaf Bookshop is having to close with a large debt after 20 something years. There is a campaign called something like 'one last book', where people are encouraged to donate a tenner in lieu of a final imaginary book purchase to help them out . . . The Greenleaf Bookshop's website is no longer up, but if you would like to get more info about making a donation you can email Michal.
I know I have no Collar were up next – their penultimate show before Aaron leaves for Canada for a year. Their final one is at The Here Shop today as I write ( Sunday evening ). They played their usual top stuff, interspersed with scarf and West Wing based banter, to speeded up DV of Aaron's drawing and painting.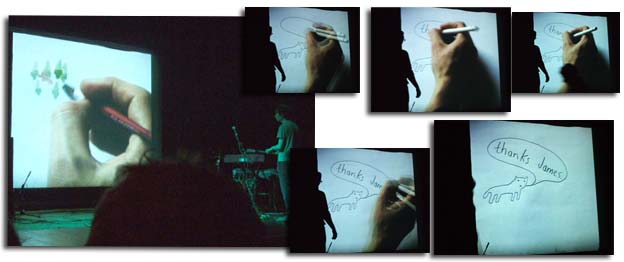 Next was Fránçois, playing to his great little short stop frame super8equse-but-not video animations and ending with both Fránçois and Rozi playing to a wonderful longer one they had made together that was fresh out of much thanked James' DVD factory.
Last up was the Orchestra Cube – introduced by Captain Richie, they ( we ! ) actually started about 11pm when the live license ran out ( but don't tell anyone! ).
The Here Shop drawers, lead by Aaron with James on the live feed camera, were in the middle of the stage, the Orchestra was divided into two on either side. As with most OC outings there was no real clear objective, and so no parameters in which to fail. I think it was tricky for the two sides to hear each other, and I felt it could have benefited from a slightly shorter set, but as ever there were great moments, and moments of glorious chaos.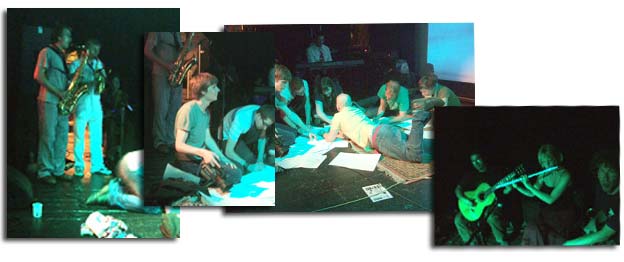 I enjoyed the unusual challenge of trying to take direction from what the camera was relaying of the live drawing – and liked the way the live drawers were the performers centre stage rather than musicians.
Old school Cuber Morgan, who missed a planed Big Chill performers reunion at Movieoke the night before, got back from London in time to join me on stage to help with the kaoss pad and pipes contribution.
We stayed on stage with my hi-tech looking bits for the faux satellite link-up with Jeffery Lewis.
After packing up we ( James, Aaron and me ) stopped for chips from Rita's On the way back home, where the guy serving was intrigued to check out the drawings from the Orchestra Performance.