Apologies again for a lack of posts recently – life, and to some extent electricity and phonelines, have been disrupted round my way due to decorating, but hey, almost a month after the event, here's my run down on the Cut-Up evening you've heard so much about if you've been following this blog over the last year or so . . .
I'm somewhat notorious for cutting it fine – the old curse of perfectionism means there is always more you can do so why ( and how can you ) stop sooner?
Still, as ever, I managed to get there with seconds to spare with the DVDs and their backups freshly burned in time to stop Mark from ushering on the Orchestra to perform without the special video I'd put together to conduct them.
The Orchestra, which included Peter The Conductor himself, performed brilliantly – I sat in the audience and watched the footage of Jesse in the bird head explaining Peter's signs and then conducting them . . .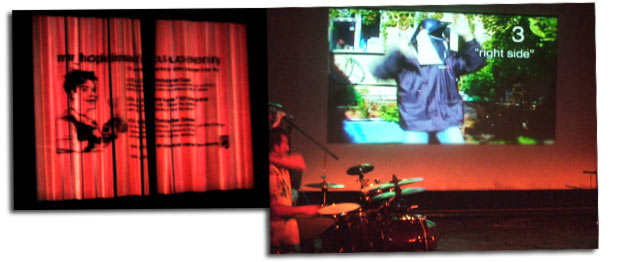 . . . It worked really well and was good from the audience's point of view to have everything clearly explained, so the reactions of the Orchestra could be easily understood. It was a bit of a shame that they were first on really, as some people were still arriving, or missed it completely, but there will be another chance to see it at Watershed next Wednesday ( the 30th November ), if you book quickly in advance.
Next up was 9 V cell, and the realisation of a long held cube ambition for me. Having previously emerged from under the stage, performed behind the screen and even spinal tap-equsely abseiled on the stage, with full stuck carabina embarrassment moment, I've always wanted to use the space underneath the audience's seats, known to volunteers as "The Void".
As 9 V cell use light sensitive instruments, that also can make the most of full darkness, they were the perfect ones to do it. So that's what I asked them to do, with a night-vision feed so what was going on could be seen on the cinema screen.
As it turned out the audio also went to the main PA – a bit of an oversight really as I had hoped it would have just come from below. Another thing about 9 Vcell, as the name implies, is they use portable battery powered instruments, including large speakers allowing them to turn up anywhere and make some noise. It was a great and wonderfully unsettling performance . . .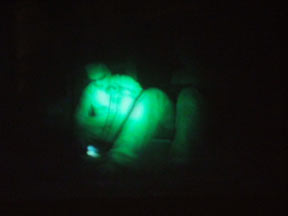 . . . but I think it really would have benefited from bypassing the main PA – it would have meant this part of the evening wouldn't have been as loud as your expected Friday night out, but ears soon adjust – and the engaging visuals would have been all the more apparent to be coming live and directly from below. But hey ho, it still worked well, just in terms of audio erred more on the conventions of entertainment than art which was the original intention.
Following this was the realisation of another long-held ambition based on a simple idea that I'd handed over, this time to Jay Le Surgeon.
The Turntable Orchestra, comprising of 4 performers, 6 decks and 1 mpc, performed using multiple copies of the 'Sir Adrian Boult introduces the Instruments of The Orchestra', a commonly found budget label charity shop record that I've amassed several copies of over the years, and always wanted to use to form a virtual scratch orchestra.
Beyond this initial idea I'd no clue what to expect, as I'd just left them to work out what to do in the weeks before while I edited away on the main video piece. On the night I thought they were, quite simply, incredible . . .
. . . especially as they had had only one previous practice, and the budget label vinyl isn't the easiest to manipulate. It was the highlight of the night for me and I just soaked it up with a massive grin on my face.
After they had packed down . . .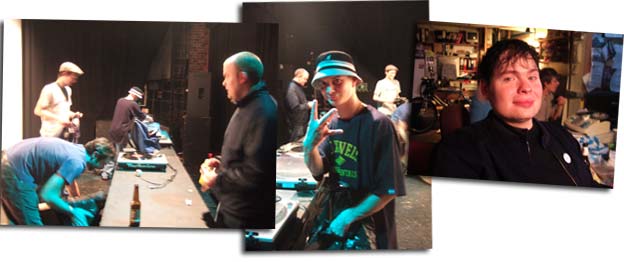 . . . it was finally time for the screening of the main video piece, 'Cutting Up my Friends' – a video piece made from footage of lots of people captured improvising on their own, brought together in the editing to make them play together as a virtual orchestra. Or the first draft of it anyway. At the time a round of applause before it had even started had me even more nervous – I was rather worried it wasn't worked enough, but thankfully all the feedback I got has now let me convince myself this was simply foolish thinking – though I am of course continuing to work on it more.
I made the piece specifically for widescreen projection and this was the first time I'd got to see it big on the cinema screen, which was something of a treat, and the genuine appreciation of the audience was, well almost too much really ( see me looking pleased and sleep deprived above ). Thank you, and thanks to everyone who helped and performed – especially RLF, Diss Miss and Colin Smith who took care of business in the bar.
I would thank the tech crew too, but they already got chocs . . .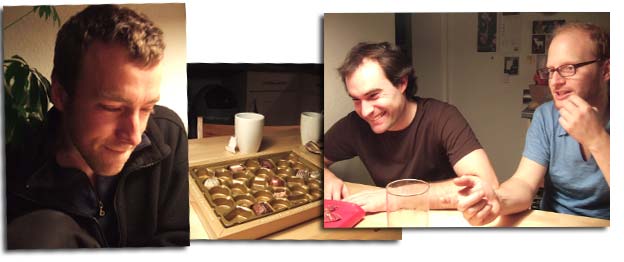 Now to tour . . .