No spelling mistake my friends, no sirree, for this week we welcomed 3 members of our Japanese outreach program, The Kobe Orchestra.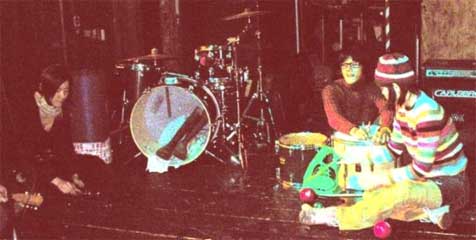 This was alot of fun for me. Clearly by now you all the know the vastly talented Tomoko bass player and occasional percussionist extraordinaire. Well she was joined by Yoshino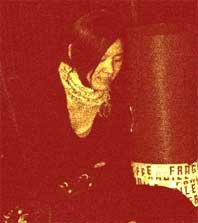 (who had a great party in Montpelier during the summer where a few Cubist types ended up) and Tomoko's visiting friend from Japan Akira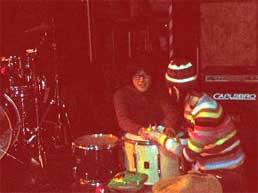 . Well it turns out the boy can bash away a bit and Yoshino also did a good impression of a Geisha at times (kneeling to strike her item of percussion, very Japanese that) and Tomoko also smacked and shook away at the drums etc lieing around, so I felt like it was The Richie Paradise Percussive Four versus The Cube Orchestra at times.
In fact that was how we started proceedings our side of the stage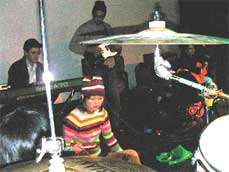 versus the other side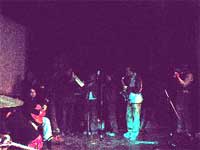 Lots of newbies, Krsh on geetar, Maz on sax, and Helen on flute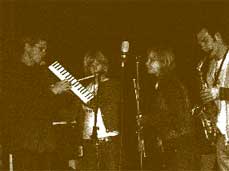 who all contributed well to the kinda ramshackle and cold proceedings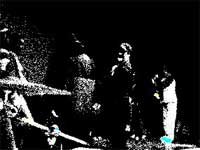 .
Musically very interesting. Different 'cus we had some newbies who haven't been driven quite as mad as the rest of us, so the music was probably not as far out as usual, in fact dare i say it, you could almost have danced to some of the stuff we played, possibly due to the highly percussive element of the music. Ok guilty as charged but baring in mind that we're not here to jam but to create art darling I took it upon myself to destroy a far too flowing piece,
perhaps inspired by Liam's clearly satanic influence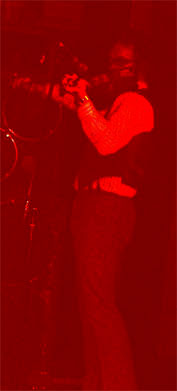 what developed though was great. We went from a kind of New Orleans second line thing to a dance hall reggae style thing. It was a fitting end to a good days music making. Well done all, hearty back slapping and big grins of satisfaction and smugness please for, and by, Tomoko, Yoshino, Akira, Maz, Helen, Richard, Krsh, Ale, Marcus, Belinda, Liam, Mark, Gareth, Myself, Barry and Ellie.
Mr. Hopkinson was also there finding out who'll be available for weds performance at The Watershed.
So it's good night from him
and its good night from him
Richie Paradise