Guess I must shoulder some of the blame for letting the loon loose – I met Timmy at the Arnolfini's Playing John Cage preview, and persuaded him to come to The Cube to see Daedelus play – when he got there he admirably launched into helping out behind the bar, but, in over-excitedly trying to retrieve an iced-in bottle of vodka from the freezer managed to stab the unit with a knife, so eliciting some sort of gas and widespread panic . . .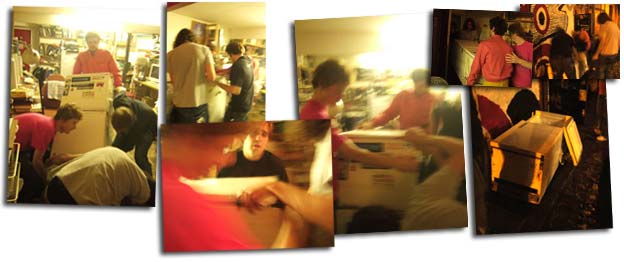 . . . to get it temporarily out of the office. Thanks to Kate's trade-it work it is now replaced, and to be honest and fair to poor Tim it really needed replacing well before the knifing incident anyway.
Meanwhile in the auditorium Daedelus was wonderful – artfully getting round the old thorny problem of 'live' laptop music often being somewhat uninvolving by playing a special purpose built hardware sequencer linked to his computer that might not look like much below . . .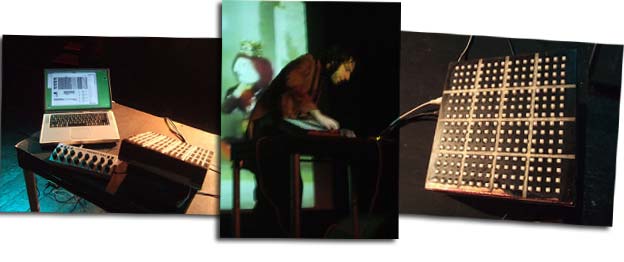 . . . but was a joy to see him virtuosically operate it live on stage, manipulating separate samples and tracks all digestible by the audience as it's descriptive outward-facing lights flashed by.
Also kind of hard to decipher from the photos, but he sported a mean tailcoat. Correct.