Though I have to say there was a fair share of downers too this week but I'll come on to that later (nothing to worry about).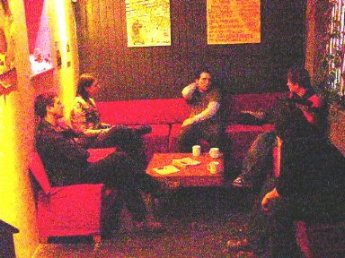 The Cube Orchestra Steering Commitee (personally I prefer War Commitee but I'm in a minority) met with Mark Slater, who, correct me if I'm wrong here Mark, is in charge of mergers and corporate takeovers at The Cube alongside designing the Cube's blueprint for THE TAKING OVER OF THE ART WORLD. It was very successful meeting and hopefully they'll be a lot more orchestra type things going on this year, including a Nanoplex performance. We're also planning an invasion of the Royal Philharmonic.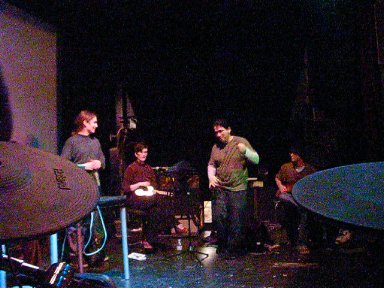 As for this weeks meeting, well 4 newbies (2 in the photo above), David on keys and laptop, Adam also on keys. Leo on geetar and (i think, apologies for forgetting) Carol on Ukulele.
Adam was the wearer of a tres bizarre hat
now if you randomly came across this picture without any context, you'd think that was the moon and Adam was turning into a Werewolf. Funnily enough there was definately something evil about the music this week, we were all over the place, inspiration was sporadic, but at least we had the return of Tomoko
and Bel
These two were instrumental in helping us end on a high note, a long languid bluesy jazz tune with trumpet bursts and some great traditional bass work from Kobe's finest. We also saw the return of Hugh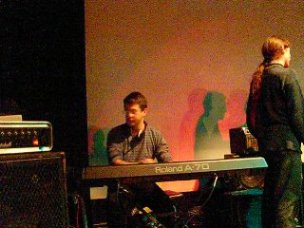 (seen here walking past Marcus). Hugh encouraged us to play quieter, seeing as there was alot of soundspace being taken up, he was right and Hugh I apologise for my vile and vulgar response, too mnay years spent in mess halls and class rooms.
Next week sees the return of The Maestro, Peter Swaffer-Reynolds, I'm sure inspiration will flow forth.
Ciao for now,
Richie Paradise
Ps the answer to last weeks Guess who was Ale