Well, I've been in The Cube a bit more a bit recently, but I've also managed to missed a couple of things I'd meant to see . . .
Sadly didn't make it in time for the many membered The Arctic Circle on Thursday, even after determinedly hot footing it with Amy from an informal film-makers' meeting at Watershed arranged by Harriet Fleuriot of the Bristol branch of Future Shorts ( anyone interested in joining in email me and I can pass you on . . . ).
So yeah, missed The Artic Circle, but happily added to The Cube's volunteers' how-tall-wall . . .
. . . and became part of another impromptu oversized indie supergroup called The Hidesincoats, check us out . . .

. . . no songs to speak of, but the first video's pretty much done . . .
I'm looking forward, as David Hidesincoats, to being invited to do obscure unmixed guest dj sets at indie clubs across the land . . .
The second thing I missed was the Plug58 nanoplex on Saturday – I was out of The Cube, but with ( some ) Cube people again – this time at Spike Island for a few talks and a few free pies. The final talk was given by Hogge and Kate . . .

. . . both talking generally about The Cube, including some interesting ideas about what the unpaid structure and what word the 'amateur' can actually mean in terms of the 'professional' ( or presumed no- or un- ) and the passionate – with it's original meaning deriving from 'amor' Ð love, The Cube's relation to Artists' practice, Artists' practice in relation to it, and specifically about Kate's Feral Trade project, which was later in actual action for the evening Plug58 portion, which I did make . . .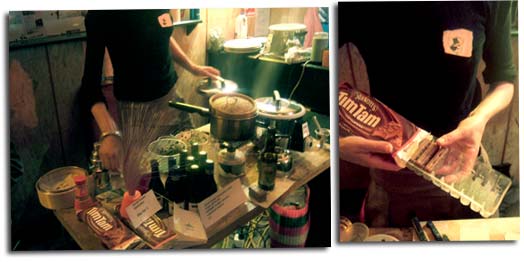 Apperently there was a bit of a hoo-hah at the earlier Plug58 Nanoplex event for the kids – Patrick Duff and Duncan Fleming's contribution was deemed too scary for some – I heard reports from Patrick ( not happy to be asked to comprimise ), Kayle ( uncomfortable but confident in her actions ( as event manager the onus was on her to ask them to tone it down ) ) , and Jem ( as a parent he, and more pertinently Milo, were at ease with a bit of scary in a kids' story – though wary that some were under the 5 years and over suggested in the programme ).
As I wasn't there it's hard to tell what it was like, but hopefully it won't scare off parents and kids from future Nanoplexes as I reckon it's a brilliant, and in my experience, well executed idea.
I'm presently trying to work out how to work in some Singing Science for some future one ( I'm really love to see them performed by Tom Bugs in his labcoat, possibly as part of an 'educational' nanoplex, along with Fránçois teaching basic French ).
Like the earlier reports, the evening 'adult' audience were in for a bit of a, potentially scary, surprise too – while the predominate theme of the night seemed to be singer-songwriters with semi-acoustics with Leila Music, Joe McGann ( with Sam Kidel ) and Simon Breed . . .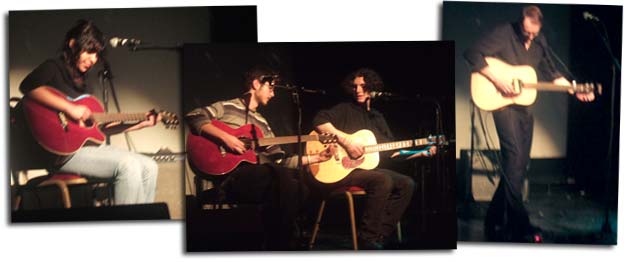 . . . all performing intricate, beautiful, and in Simon Breed's case quite funny, songs with a bit of that plug58 dark undertow, I wondered how was an audience that visibly flinched and audibly gasped at a bit of a click when swapping guitar leads would take to the mighty Team Brick when he took to the stage . . .
He wasn't playing a semi-acoustic. Admittedly there was a bit of guitar in the mix, but his most impressive instrument, after his voice of course, was a contact miked wooden plank and file . . .
. . . too much for a few, but admirably most enjoyed it, if somewhat open mouthedly.
Well, that's what I did and didn't see recently – acutally I made the Fonal records night too, which was good – enchanting in fact – but I'm tired now and the pics I took weren't too hot, so won't say any more for now.
As always, I'm keen to encourage anyone involved in The Cube, at any level, including 'mere' audience members and long distance blog readers to contribute their perspectives on this place, so please comment if you have something to say, and also comment/email me if you would like me to set up a login so you can do some blog posting proper . . .
Oh, and there's much coming up with Bluescreen on Wednesday, a night of improv involving the Orchestra on Thursday, and the unmissable Movieoke on Friday . . . all of which looks like it will be interesting, though what I/we will make or make of it we'll have to see . . .