So you take a chance, turn up to something that says Random on the poster. You are confronted by the usual Cube delay and an assembled mass of musicians including the tall and bewildering Liam. Luckily for you you are also met with a Host, not just any host, NO this host is well dressed, articulte, has a charming smile and a certain way with the ladies. He puts you at ease, warms your heart and sets the night on its way.
Ladies and Germs, that host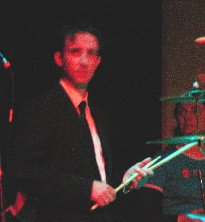 was me.
No the plaudits should really go to everybody for this (but especially Belinda), and that includes the audience. Here's why…………..
First up was The Cube Orchestra conducted by The Maestro Peter Swaffer-Reynolds. We showed the assembled masses how this improv malarkey works and then we encouraged them to join in with the few finger cymbals and bird whistles that we had. Some wise souls had bought their own instruments (well done Mario) including my best mate Krissy,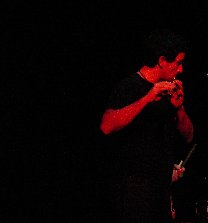 which meant that Peter could conduct by getting some of us to be quiet and the audience could make a huge input into the tune. Also for the first time ever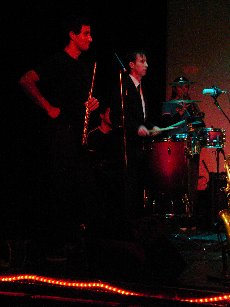 I could play a gig with my best Bud, double whammy. Triple whammy in that for the first time with The Orch' I played my Cocktail drum kit.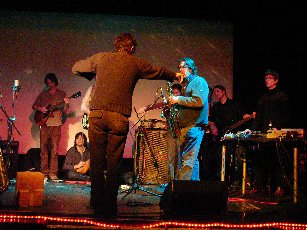 I have to admit I was egging the Maestro on for mad song names and he didn't fail, but I can't remember any but I'm sure icecream was mentioned because Peter's song titles always feature icecream (X rated link that by the way).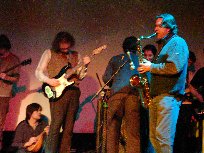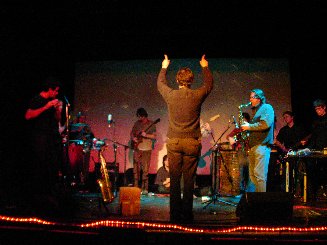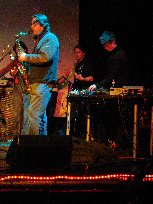 Then we had a short break, so off to the bar for a drink and Pippin's random djing, put your hand in Pippin's 7″ selection and pull one out, voila the next tune, nice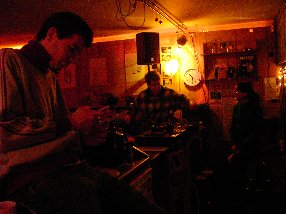 Suitably refreshed we went back for part two. Now I had difficulty saying this mob's name, two many M's, now I can't remember it. Check back soon and I'll put it in. Anyhoo it was long time Orchestra member Ale's band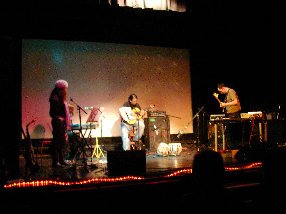 who also featured Martin who graces the Movieoke stage sometimes. Their music was introduced as being improvised around a theme. Lots going on, different instruments making a tapestry of sound and lyrics and words were weaved on top. The lady doing the majority of the talking

(sorry I should have got your name) even gave my Skool a mention (I think it must have been nightmare based). You can hear some of Ale's music HERE.
I'm afraid I had to get a bit pushy towards the end of their set to get them to finish as we still had story telling and another band to hear. So sorry you guys if I seemed a bit rude but like I said on the stage, you were going on a bit…………
So then we had the marvellous Hannah (no pic again sorry). Hannah does the story nights at The Cube. She riffed and made up stories 'Whose Line Is It Anyway?' style with ideas shouted out by the audience (mainly made up of rather drunk and boisterous Orchestra members). I'm sure felching was mentioned as well as numerous other devious and niche sexual practices enjoyed by Cube members. Despite the bawdiness we all enjoyed this alot, a friend of mine found it awe-inspiring.
So then there was a lengthy bit of improv style hosting by yours truely whilst The Dream Palace trio set up and soundchecked. Well I got the chance to thank a few people and I'll do it now too, Belinda for setting it up for a start. Bel played with the Orch' and then had to leg it over to Seymours family Club to play with The Beatnik Filmstars, Croikey as our antipodean cousin may put it. Leah, on sound, did a great job, as did all the backroom staff, hey you know who you are, give yourselves a pat on the back. Mr. Hopkinson had appeared by this point which gave me the emphasis to plug Movieoke and to demonstrate how one could perform before we finally got the music going again.
Wow, this was good.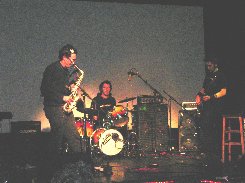 Peter had assembled a wee band for the Edinburgh festival and this was it. As he said, their aim is for about 60% of the audience to leave, 30% to love it and 10% to buy the CD afterwards. Peter did some great delay pedal tricks to make his Sax sound like dozens playing ,meanwhile the Rhythm section backed it up with solid grooves (incidentally the bass player ingratiated himself to the audience by playing Paranoid by Black Sabbath for the soundcheck).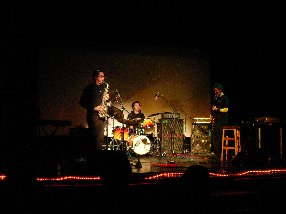 Twas the best thing I've heard in ages.
And so our evening came to a close, a small but significant success. Thanks to Laura and Neko for taking pics of The Cube Orchestra for me, and thanks to Paul Smith who designed the suit that helped me Host a most enjoyable night.
Till next time, Ciao Ciao
Richie Paradise