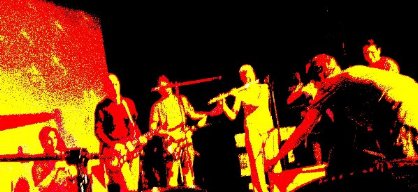 Hey it's always nice seeing old friends again, right?
Unai came back from Bilbao to play with us as he is touring Europe with an art exhibition (Dahrling).
We later played that same exhibiton (more about that in another post).
We also welcomed back Ellie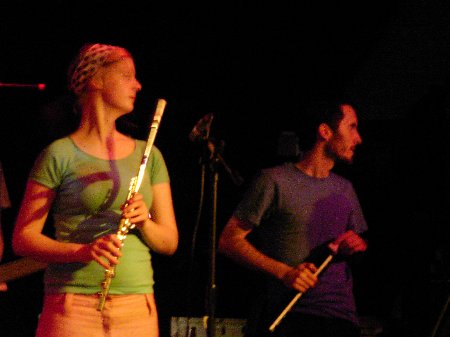 who has been missing for some time………. Welcome back Ellie, your flute playing skills and feet were much enjoyed (well not sure about the feet but you can't tell with some of the orchestra types).
Anyhow, old friends, new friends, we're all lovers not fighters in The Cube orchestra and we welcomed Sarah, a puppetier friend of Ale.
Well actually she was a puppeteier without puppets, but she did have a flourescent bike top which she used and we played too, kinda odd but nothing unlike what we normally do, so right on?, er no Right On daddio.
It took us a little while to get going for a variety of reason's, we couldn't find the mics and I was putting a new drum head on the Cube Bass Drum.
so anyhow we just did it, Ale started reading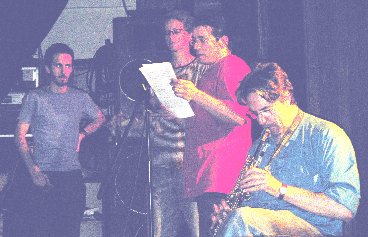 we played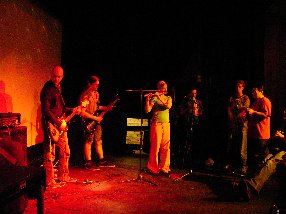 and IT WAS GOOD.
I'm really enjoying what Marcus and Richard are doing at the mo', Marcus lays down some nice chords, spacious and groovy and Richard adds electronic squels and beeps in the way that makes what Orbital or Boards Of Canada good electronic music.
This allowed us to be a bit more danceable for a change as I chucked some Drum & Bass style riddims on top and hey it was fun, people smiled and we may just have transcended into some kind of Da Vinci style secret of the universe thing, but then maybe not.
More soon, Ciao for now,
Richie Paradise