Are you prevy to Bluescreen? Well it's sheer genius, allow local film makers to turn up with 10 minutes or less of their films and let them show it, one after another. Well seeing as it was the nearly the end of the year, Steve (who once filmed a band of mine many years ago) and Chris (of Movieoke fame) foolishly asked if a band fancied playing to a selection of 'Bluescreen's greatest hits', and No Wave Jazz for The Masses supergroup Skulpture (aka Sculpture) said we'd play. Actually the audience were lovely and we only subjected them to 13 minutes of our thang.
First off, and the tune you can hear here, was Too Many Canadians, a new ditty, and before upright Moose jockeys get uppity, I haven't elaborated on what Too Many Canadians is eluding too. Anyhow hear for yourselves as the audience join in the Canadian related fun:
I will be trying to blog all the recent things I've born witness to and been a part of recently at The Cube (Movieoke for one) before xmas so be sure to check back real soon y'hear?
Big Love,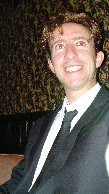 Richie Paradise