Back in November the rather marvellous Qu Junktions put on musical odd ball and all round top banana Eugene Chadbourne, ably supported by The Cube Orchestra with Guest Conductor Nick Sorenson


Nick came up with an interesting score with which to improvise with, it's not that hard to unerstand but I can't rebothered to spend ages explaining it all, needless to say it worked in creating a piece of work that didn't have the audience fleeing for their lives, suprising really as at certain stages bass solos, penny whistles and egg shakers were in liberal use:
And then on to the maverick Eugene Chadbourne, I'm glad to say his odd ball charm won over an appreciative audience, so much so that he got his electric rake out, just check the clip out further on. I really enjoyed his first tune and especially the marvellous 'Girl From Al Qaida' played to the tune 'Girl from Ipanema' by Astrid Gilberto. He chuckled to himself whilst singing the song, one guy was guffawing throughout the gig. Anyhow enough of me, over to the man himself:
And for the encore, his electric rake:
Oh it was a good, good, night with lots of happy faces at the end. My thanks to all who came and to Mark and Chiz for putting on The Orchestra.
See you next year, Big love and Ciao for now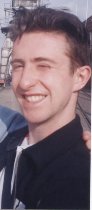 Richie Paradise