Last week I enjoyed one of the best nights out at the Cube for a long time – the "Cube Cola all spirits night". This was the 'first' Cube Cola birthday party – though, slightly confusingly, not their first year – it was, according to the exquisitely James-Vickery-designed programme, "celebrating almost 4 years on the path to food science enlightenment". The Cube Cola project is by Kate Rich and Kayle Brandon . . .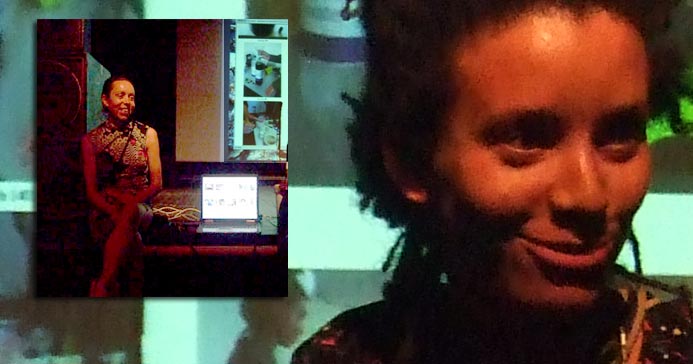 . . . and is based around providing a viable alternative to branded cola, manufactured from scratch. There is more info here, and here. The evening also celebrated many other home-spun products: food stuffs . . .
. . . some presented quite straightforwardly and deliciously, others with a bit more attached ( notably Jelena Stanovnik's extremely good pie-chart Chocolate cake, which marks out the proportions of recorded religions in the UK as part of the 'Life In The UK' project by Jelena, Kate and Rasha Shaheen – who I'd previously seen give their presentation at Spike Island and Blackout at Shambala ); and also some clothes – in the form of some very versatile garments by Sylvia Zidek, including her specially designed trousers that level the pissing-field to make dignified street-urination as easy for women as men.
Kush DJ'ed infectious afro-beat in the bar . . .
. . . and Suffolk band The Pancakes played on their home-made instruments in the auditorium . . .
. . . creating a very warm village fête type feel, though with their casual references to murder, along with a live on-stage demonstration of the aforementioned feminist piss-pants, it was all kept just on the right side of too cosy.
There was a healthy crowd despite stiff competition from a sort-of homecoming gig by The Goxxip ( Cube associates Local Kid memorably brought them over here before they blew up in the mainstream ) and everything just seemed to fall into place to make a perfect entertaining and thought provoking evening that I couldn't quiet imagine happening anywhere else . . . thank The Cube !
Later in the week, and probably because it was mid-week, the tribute night for Anthony H Wilson, wasn't so well attended. Possibly just as well as the promised Karaoke Orchestra couldn't make it, and my proposed contribution ( a compilation of YouTube clips transferred to DVD ) wasn't ready too . . . not unlike the various mythologically-behind-schedule-Peter-Saville-moments chronicalled in '24 hour Party People', which we did get to screen from the DVD with Tony Wilson's commentary ( a great idea from Hog ), after showing some performances recorded in the Haçienda from the FAC71 vhs I bought second-hand as a young teenager.
Having searched around the net for bits and pieces the pretty obvious parallels in attitude, and more than occasional ineptitude, between the Cube and the Manchester music scene Tony Wilson was so associated with, seem even more blatant to me, and hopefully we'll schedule another more party friendly, and suitably irreverent celebration night later in the year . . .
. . . meanwhile here's links to a little gem I uncovered that was made for Channel 4 in the 80's [ it's split into 7 parts ] . . .
http://www.youtube.com/watch?v=pyk5FwrbcgQ
http://www.youtube.com/watch?v=ffeORmsUKL0
http://www.youtube.com/watch?v=5VnGxoz5RZk
http://www.youtube.com/watch?v=laD5czT58gk
http://www.youtube.com/watch?v=93qAiUIFysE
http://www.youtube.com/watch?v=FveqO3T-2to
http://www.youtube.com/watch?v=An013JKUgcY
. . . which, if nothing else ( presuming you've seen 24hr Party People ), should draw attention at just how good Paddy Considine was at playing Rob Gretton !