Hello Chums, apologies for the lack of posting, basically I'm a lazy sod, unlike these plucky fellows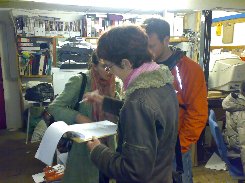 Upstanding decent fellows every last damn one of them. Come to the Cube and see more of them.
So, Things I have failed to Blog:
The Cube Cabaret/9th Birthday Bash – Reason – 'I'm editing footage and didn't take any photos and anyhow didn't Mr. Hopkinson do a wonderful job?'.
Cabaret/Ladyfest – Reason – 'Not my finest moment……….'
Cube Orchestra playing to Haxan and The Sea Hawk (starring hottie Errol Flynn) – Reason – 'Possessed by an evil spirit'.
Skulpture (Cube Orchestra Free Jazz spin off band) at The Junction – Reason – 'Gagging order by local constabulary'.
One will endeavor to improve ones self,
You're Money and You don't even know it,

Richie Paradise