mr_hopkinson's computer, you may know : http://www.computersings.com
Here's the full Banana Skinny on Doug Fishbone :
I think you might dig his uncomfortable / comfortable joke telling styles :
Artist Doug Fishbone will be performing one of his celebrated comic slide-show lectures, taking his audience on a journey through his mildly warped imagination, with a special nostalgic look at the Cold War, and his childhood growing up in New York City.

Illustrating his narration with hundreds of images downloaded from the internet, Fishbone has come up with a new and innovative form of story-telling that sits strangely at the crossroads between high and low, leading one critic to describe him as a "stand-up conceptual artist". His work weaves complicated visual and narrative tapestries that recycle the imagery of the mass-media, satirizing many of the outrages and excesses of the contemporary moment in the process.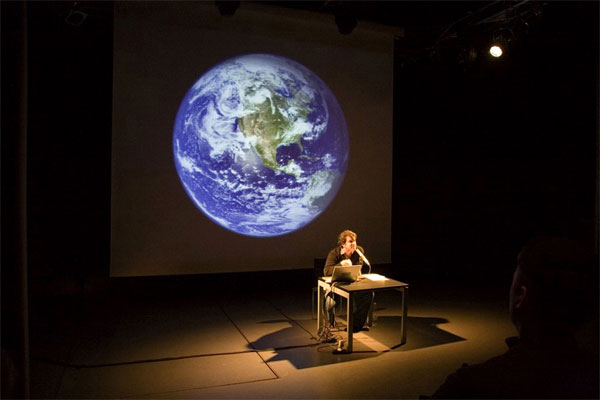 Doug Fishbone is an American artist living and working in London.

He earned an MA in Fine Art degree at Goldsmiths College in 2003 and was awarded the Beck's Futures Prize for Student Film and Video in 2004.

He is perhaps best known for his project 30,000 Bananas – a huge mountain of ripe bananas installed in the middle of London's Trafalgar Square and later given away free to the audience – in October 2004.

Fishbone's video and performance work was included in the British Art Show 6 in 2005-2006, a national touring exhibition held every five years to feature the best in contemporary British art.

He had his first major solo project at Gimpel Fils in London in October of 2006, and performed at London's Hayward Gallery in February of 2007 and at the ICA in London in July of 2007.

More recently, Fishbone was commissioned to create a video for the Beck's Fusions programme in Trafalgar Square in September of 2007, and was voted one of the Future Greats of the art world in the annual survey of Art Review in 2007. He recently participated in the exhibition "Laughing in A Foreign Language" which opened at the Hayward Gallery in January of 2008, and staged a performance at the Southbank Centre in March.

He is participating in the Busan Bienniale in Korea in September of 2008.

Fishbone was born in New York City in 1969.
Maybe see you there and spread the word if you can . . .