Hey Daddios,
Some orchestral musings from the worlds favourite Richie FACT. Thursday saw a collaboration between The Heavy Heads and Orchestra Cube for an evening dedicated to the Beat Writers. There were several very rare films, one of which had been saved and rearranged by Genesis .P. Orridge which featured good old Uncle Bill Burroughs. This film featured a live soundtrack by The Cube Orchestra. I thought we did a really good job and we featured a good cross section of instruments; Pedal steel Guitar, keyboards (x3), Harmonica, tabla, saxophone, drums, therimin, electric, bass & acoustic guitars and violin. Good job chums.
After that I improvised some drums whilst Poet Bij did his thing
I have to admit I've always loved the Beats, especially Kerouac so to be able to do something like this was great, big thanks to The Heavy Heads for letting us have the opportunity.
Keep searching for 'it' baby,
Big Love,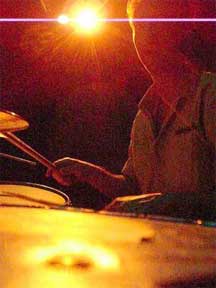 Richie Paradise