Yesterday I videoed Louisa in her Scratch pad ( sorry no stills ) and then rushed on to The Cube to setup the technicals for Movieoke with Rod and Tom – little bit worried about it from my perspective as for this first one Max in going to have to be installed in the projector room.
This means being somewhat removed from the audience for ad-libbing / judging timing . . . However, hopefully there will be a loop from the stage so I can hear Richie & Colin, and Tom who will be the 'human' host, plus maybe a bit of audience spill . . .
Visuals seemed sussed tho . . .
I then went on to the Watershed to check out Cinéformation about "Film as Art". The last piece show had a live improv soundtrack from Ale of the Orchestra Cube fame and accomplice.
I came back via The Cube to pick up my Camera and Tripod for today's filming, but Indymedia wasn't as hard rocking as I had expected and was so it was all locked up.
Back this morning I picked it up and met Educated Ed in the office where Hogge was sweeping, Chani bottling up and Heath computing.
A barefoot Ed drove me to The Holmes on the Bristol University Campus where he lived when studying with a plan to make vocal noises inside a natural chamber in the side of a massive 1000 year old Oak, as well as playing 78s on his gramophone . . .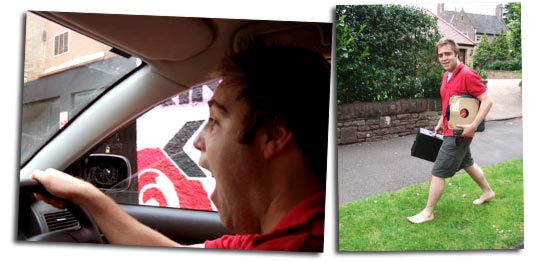 However when we got there the area was cordoned off. We went to search out the porter who Ed knew old boy style, but it turned out he was no longer there. His replacement was very helpful, and bizarrely turned out to have been in the first year on the same course as me when I was studying Art and was in my third year ( not in Bristol ).
He informed us the mighty oak had fallen. We decided to film there never-the-less . . .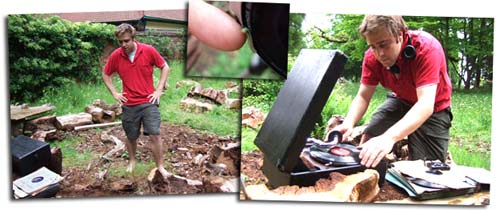 Parts of the old oak remained housing various, what I understand have now to be called "minibeasts". The area generally is being made into botanical gardens – I'm sure there's information to had about it here somewhere, but I haven't searched heavily.
Ed made some extraordinary noises and we packed up to go back to his house, with the notion of possibly videoing Joe too. When we got there Joe . . .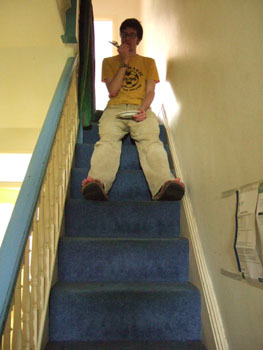 . . . was busy ( thinking about ) designing some sandpaper based invitations, but I did eventually end up videoing him too on his Technics E55 organ.
As I write The Greatness proceeds . . .