Sunday saw an out of cinema performance by Orchestra Cube. Sadly I wasn't there as I was aiding Jane from the Here shop with editting for her audio tour of art ( mostly graf ) in Stokes Croft, which will feature at Venn.
So, I missed the Orchestra at The Greatness at The Fleece and Firkin but here are some random quotes from the email list to get a flavour . . .
Anthony :
a couple of friends in the audience sunday said good things. said it was exciting. and that they enjoyed following the differant shifts and strands within the music! so that's not all bad. unfortunately my improvised and i thought, rather drole rap on Bank holiday theme did not come across at all audibly. my toasting days are over.
Richie :
had a good chat with Gary about te gig, felt we started too freneticaly but managed to get our heads around it later and got 'there' at times, ended ona good un.
Richie also mentioned a possible update hereabouts with phone pics, so keep peeping the posts. . .
On Sunday afternoon I videoed Orchestra Cube Member Unai Requejo . . .
. . . for my Cut-Up project. [ I feel justified in mentioning my persional project at every moment as it invovles many cubers and is to be initially screened there / here . . . ]
Language was a bit of a barrier with Unai – or rather it should have been . . . this is how he describes himself on the Orchestra Members list . . .
Unai Requejo :: Guitar
From Bilbao.

web site: http://www.euskalnet.net/dizdiz

Quem já passou por esta vida e não viveu, pode ser mais, mas sabe menos do que eu Porque a vida só se dá pra quem se deu, pra quem amou, pra quem chorou, pra quem sofreu Quem nunca curtiu uma paixão, nunca vai ter nada, não (2x) Não há mal pior do que a descrença, mesmo o amor que não compensa, é melhor que a solidão

Toquinho – Vinicius: como dizia o poeta
. . . which to my shame I have no hope of deciphering, however – mostly through facial expressions, and a shared love of filming and fun – he obviously knew exactly what I was after and played great on his strange little guitar with in-built amp plus a beautiful bit of trumpet in, what he called in an email, the 'pedestrian passages' . . .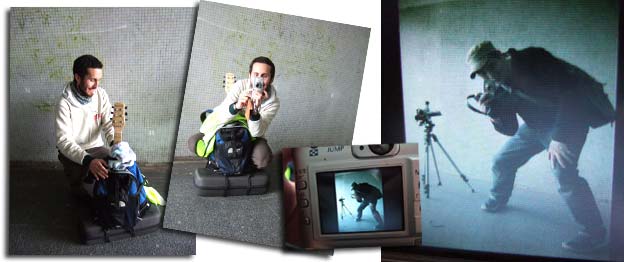 Then on monday I videoed Lisa Cupcake at the Here shop playing toy piano and Stylophone in ever stylish red and black.. . .
The Orchestra is playing on Saturday at Venn, and Jane's audio tour project is launched on the Friday 6pm at the Here shop – so maybe see you there . . .