So, don't you just hate it when something's regularly updated, slowly you realise it not so regular, and then you have to wait 10 days before something appears. Me too, so sorry about that.
Have no fear though, The Cube abides, I just haven't been there ( much ).
I'm wrapped up in the Cut-up – it's the final throws of both collecting the footage and building an edit machine to start the next stage . . . plus I'm peering at the screen through a lattice of delightful eye grot as the hayfever season is finally upon us, which also leaves me with a mind feeling like it's encased in cotton wool, whatever drug combo I use ( Chiz knows what I'm talking about ).
Last time I was at The Cube was for Venn – it seems almost comical to do a Venn report this late, there have been so many ( my favourite so far being DJ Rupture's ( may need to scroll ! ) which includes reviews of music heard from cars and mentions of Scotland's most popular caffeinated drink. ).
Anyway, I'll give it a go, using my photos as a memory trigger . . .
So first off going way back to the day before, everyone was rushing around . . .

Returning from one of many trips to Target electronics re: building a video editing machine I popped in on Patrick who is now lodging with Hogge and the kids. Pat wasn't there, but Hogge showed off his impressive array of analogue equipment . . .

I recorded one of his tracks to my iRiver to play in my set for Venn on Saturday at the Malcolm X Centre. Hogge was also getting ready to perform, at Black Out Sound Cinema at The Cube, also on Saturday.
Opposite their house was some graf by Sums, put up specifically for Jane Porter's Relay – "An audio walking tour of Stokes Croft, featuring artists whose work can be seen on the walls, pavements, galleries and studios of the area."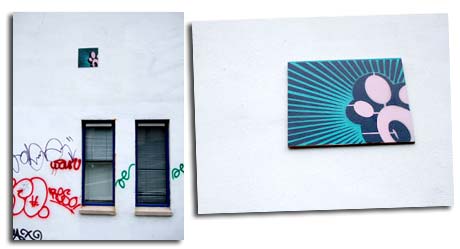 That piece is no longer there – there were also similar ones above the back door of The Cube which have also gone.
I helped Jane with the editing of the audio for 'Relay', halving Emma Canton's, Heath's and Rowdy's talks by removing the ums and ers, plus providing text-to-speech for "the elusive" Banksy.
The next morning, Venn Friday, on another trip down Cherry Lane Aaron did his green cross code man impression . . .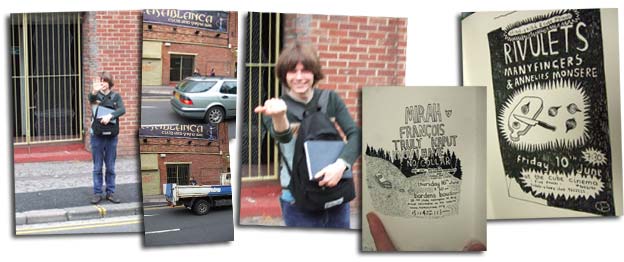 . . . on his way to get flyers printed ( by the way, Mark, if you're reading where are the various flyers and posters for the archive here . . ? )
After preparing my Saturday set I ventured forth to the preview of 'Relay' which was presented as the Venn opener, but not unlike many a Here shop preview ( but thankfully unlike all Venn events to follow ), was rather sparsely populated . . . Jane herself had rather flustedly phoned to say she would be an hour late as she was having trouble with the mp3 players that walkers hire to hear the tour . . .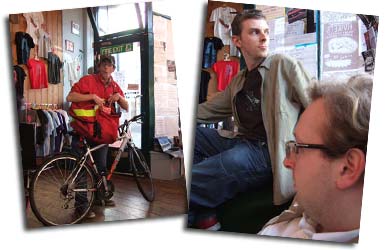 and, only a bit later she did arrive . . .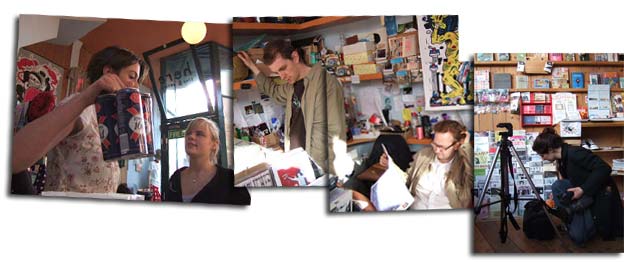 There was only one mp3 player ( rather than the proposed 5 ) for the preview, but the content, poster and pamphlet were all very impressive.
'Relay' is an ongoing project and I highly recommend popping into the Here shop if you haven't experienced it yet . . .
The people there – mostly artists involved, took turns to try it out. I went to The Cube to check out WSSK talking about their piece on the back of the Cube that was commissioned by Thames & Hudson for Tristan Manco's 'Stencil Logos' book launch. It was strange to hear Lady and Hogge talk about The Cube on the player and have them appear.
Inside The Cube Radio Venn was in full swing with Rasha and Joe Volk doing a plug58 show, which we'd been listening to on the Here shop's radio just before. In the last minute spirit Rasha hadn't received my mp3 indents in time, but I managed to get them to her in time her next one.
Going via the Here shop Rasha, her Sister, Joe and I went for a drink in another Venn venue, The Pipe and Slippers . . .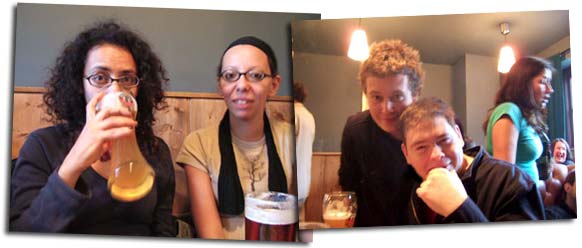 . . . before moving on to the Malcolm X Centre, and it's familiar looking door staff . . .
. . . into the almighty sonic onslaught of Acid Mothers Temple And The Cosmic Inferno. On the stairs and up the stairs their were further familiar faces . . .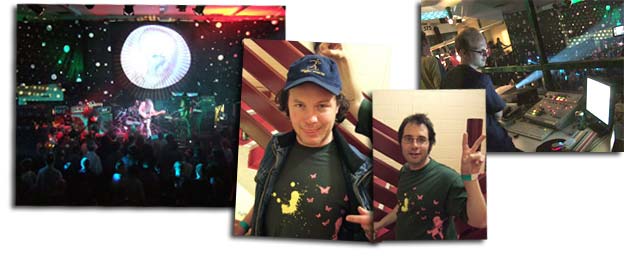 Thankfully it was busy, and there was a real festival feel that may be hard to comprehend if you weren't there. Maybe it was the wristbands., Maybe it was the money – the no-Friday- guestlist policy, plus the fact that my 2 performances were on Saturday ( doh! ) meant it was a bit pricey for stingy ole ( well Cubical spoiled ) me, though definitely a reasonable price for what you got from any reasonable angle. The standard £2.50-for-a-can-of-Red Stripe may also added to the Festival feel. More likely it was the attention to detail of all those involved, things like the consistency of the visuals across the venues giving a unified feel – Rod was doing a grand job . . .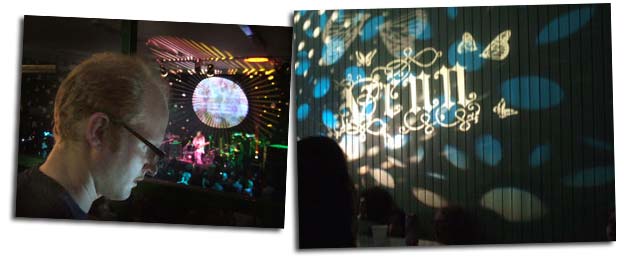 Headliner Mark Stewart . . .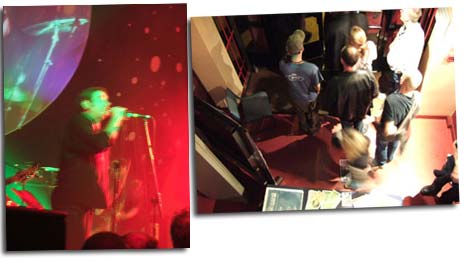 . . . blew many away more than me. It was good – hearing that 'Good Times" riff (re)played by members of the original Sugarhill House band has to be pretty special, and the whole paranoid punk funk dub thing is undeniable current with Simon Reynolds' book, the Soul Jazz comp, and DFA et al ( sic ), but I got the feeling I would have got more if I'd been around the first time round, rather than know of him second hand via those who cited him as a influence.
There were a lot of people there I presume did know him from the first time round and that range of ages also added to that diverse festival, urm, can I say 'feel' again?
I enjoyed Adrian Sherwood's masterful dub interventions, though I heard some people didn't appreciate the extreme so much and thought he was overdoing it on the desk, but I definitely disagree – I also heard that he kept asking Chiz "Does it sound alright?", which is sweeter than Kate's Feral Trade if true.
Right, well, I'm running out of space and time here so I'll come back later with tales of Saturday . . .