Hmm, I seem to have settled into a student-washing-up style pattern of occasional blog splurges ( but thanks to Richie for keeping Orchestral updates coming and the different perspective ).
I've been even more snowed under than usual with a variety of demands, however here's some more of the fun, and vaguely Cube related, and come to think of it snow related, bits . . .
At the end of June I went to the Cinemformation forum about non-cgi special effects at, ok yes, the Watershed with Cube program designer Morgan, and we got our tickets from rare red Cube badge sporting Amy . . .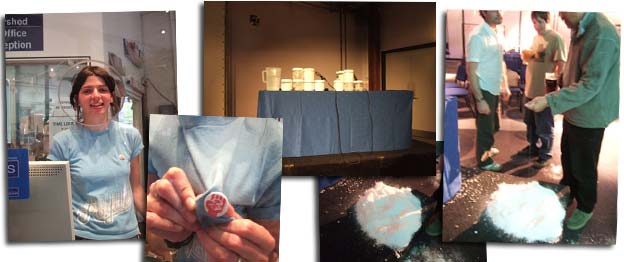 . . . there was a talk from someone from Snow Business, a company that's provided a variety of fake snows for just about every film with a winter scene from Groundhog Day to The Day after Tomorrow ( who are based in Stroud! ) .
The second talk was from Tim Macmillan work from Time Slice Films who Morgan, and another chap whose name I can't remember who also happened to be there ( pictured above ) , used to work for ( there all had no idea any of them were going to be there. )
I had originally meant to go with our own ingenious sfx designer, Pat, who's been coming along well with the new spacesuits for one of our Big Chill performances . . .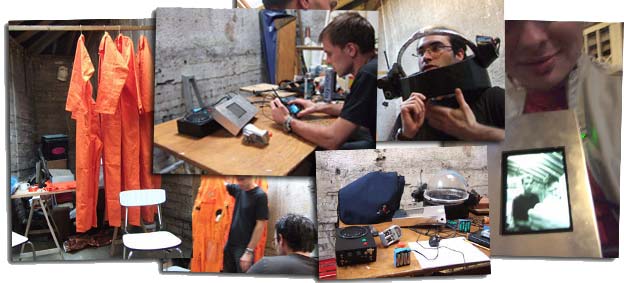 In other news, the Here shop has a new ( accidental and I assume temporary ) uniform . . .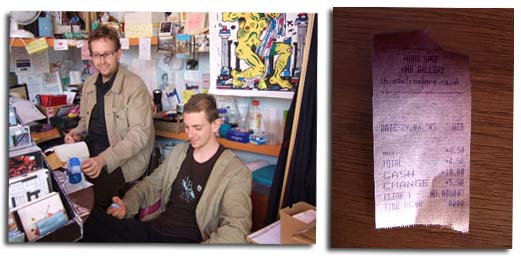 . . . and excitingly, a new, meticulously programmed headed receipt – could do with more ink though ( this image is heavily photoshopped to show anything! )
There were a couple of laptop crises ( yes, that's the correct plural of crisis ) recently . . .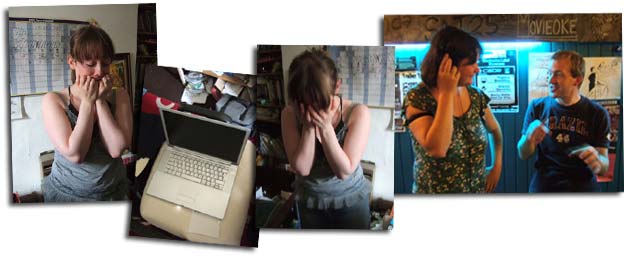 . . . it looked like 5 years of Jessika's work had been unretrievably accidentally deleted by Duncan, though about 75% is now back with us, after a lot of fret and sweat . . . also, Robin retrieved Lucy's work for Electric Pavilion from her extracted harddrive, but unfortunately her computer has now merged with the infinite.
Lucy, herself has finally made it to Berlin (as part of a project that's been on the cards for a while ). Before she went, another project long talked about got a real world outing . . . Can't Be Fucked Productions, the first night featuring some of the late John Peel's favourites, Darren Hayman of Hefner and Steveless . . .
. . . plus Lucy on organisation and records . . .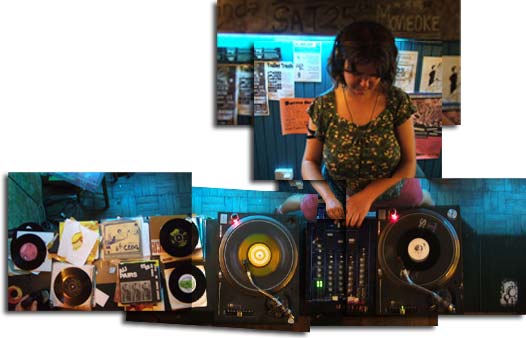 Also in the actual Cube, earlier in the day I saw Hogge manipulating a virtual Cube pondering future architectural possibilities . . .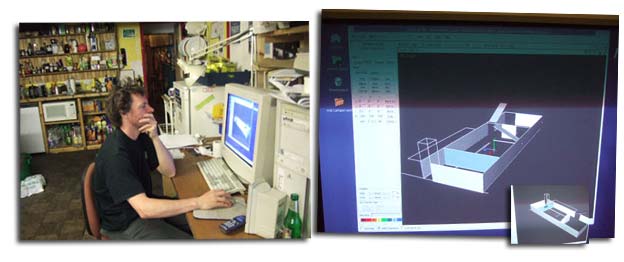 This year's pre Blackout Blackout meeting looked like a lot of boys . . .

You can just spot Zuleika peering over Chiz's shoulder, and there are many women performers ( and indeed some more staff not present at the meeting ) but the balance has severely waned since the first more female friendly Blackouts. I don't know why this is, but do hope more women step up to volunteer for future years for that balance . . . and, um, there's no one who's Black or Out either ( ahem ).
I made a brief Cube appearance last night for the Circle gig – well, actually I was dropping off some Computer Sings promos for Mark and was too knackered to stay, but it was very busy . . . if anyone feels the smallest twinge to write it up while I'm away building up the next babling blog backlog, please don't hesitate . . !