Greetings.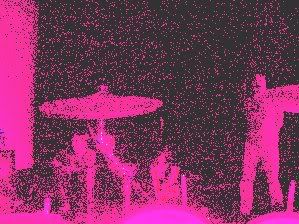 You know there's been alot of chat recently amongst Orchestra members, and Cube High Brass, about where the Cube Orchestra is headed for and for all our chat we're still not sure! Well not true, we're going to be more pro-active. Lined up is something to do with The Here Gallery, a bi-monthly rescoring of a film and playing along to some improv/avant garde dancing.
Ale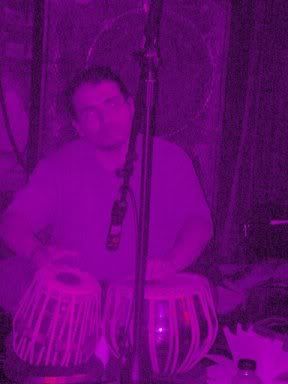 Our Chilean multi instrumentalist member has started the ball rolling on that one.
Did I mention we're a great example of Multi Cultralism? This weeks meeting saw the introduction of Tomoko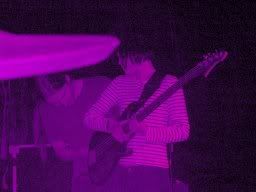 seen here helped by Hugh into his bass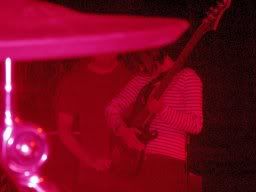 . She's joined us from Kobe in Japan. Admirable bass work my friend from Nippon. A warning to Tomoko though, I'll be practising my rudimentary Japanese at any opportunity, Typical Baka Gaijin.
For those who like sport, the Australians have taken it to a whole new level, well the Cube Orchestra's resident True Blue has followed suit and taken improvisation into a new stratosphere, whilst we're wasting our time playing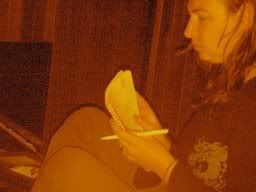 Belinda read a book.
This weeks turn out featured the 'Hardcore' and I have to say it really was pretty good what we did. I was also struck by how cool we actually are too, as you can see Mark was also struck by that very fact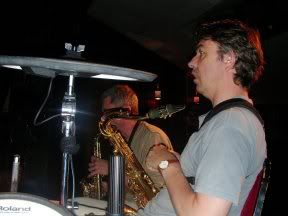 I felt the urge to bust a groove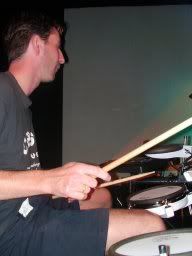 .
Marcus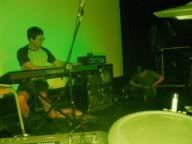 recorded the results, hopefully that'll find its way onto the web sometime soon, The man has an unhealthy obsession with Angelo Badalamenti, its the vibes baby I guess.
With solid rythm work from Marcus,Hugh and Ale, and yours truely, the horns were left to go for it, which they did with an aplomb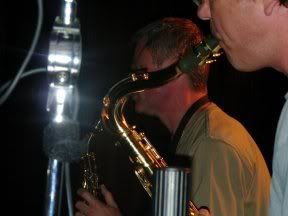 , though Mark did at one stage, fall asleep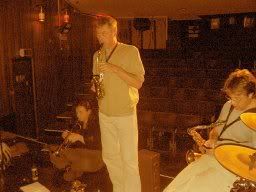 but then, he is getting old and it was close to his cocoa time.
A great time was had by all, especially after Ale suggested we freak out towards the end, groovy daddio, groovy, we just didn't want it to finish.
Here's to next time, Comrade Richie Paradise