The Punters were anxious, for they had gathered early, eagerly anticipating a show, a spectacle, a Spectacular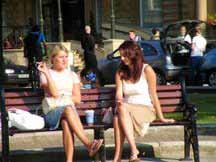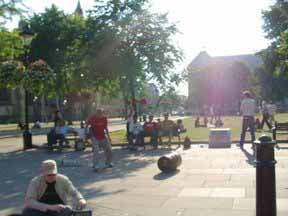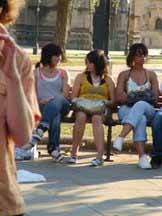 Well baby they got one. If the audience does not come to you, then You must go to the audience. And with that The Cube Orchestra went to college Green and showed the general public, the oi polloi, just what it is that we do.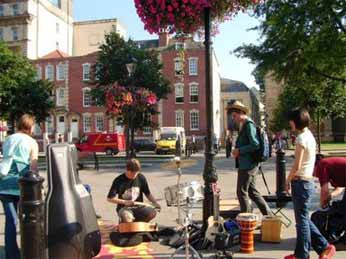 At first we milled around, unsure when or how to start, and then we just started doing it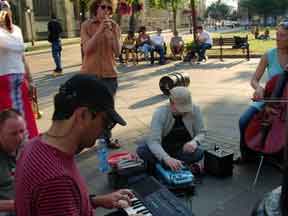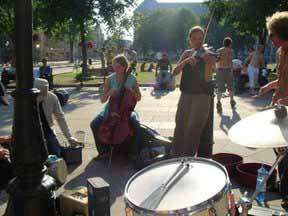 Hopkinson turned up late (that's 100 lines you owe me boy)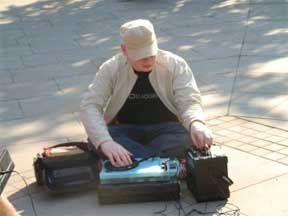 but what he had to offer with his baby cube amp was great, a lovely contrast to the mainly acoustic output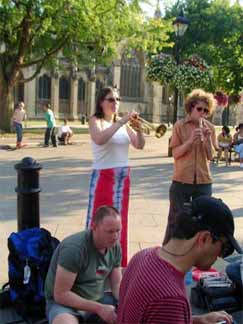 Which was great too, don't get me wrong.
I was most happy to see the string section back in action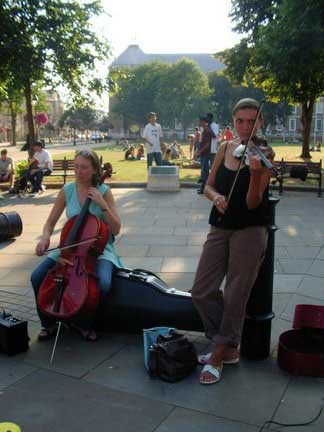 ,
the Sisters Emma and Amy Roe seen here adding that sophisticated edge to the general philistines you normally find in the Cube Orchestra.
(your author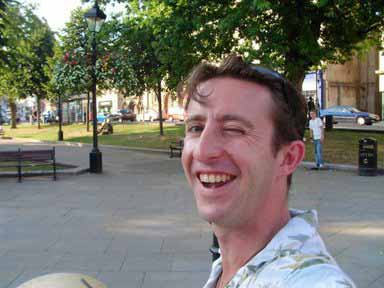 excluded readers).
In fact Emma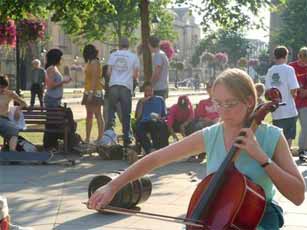 was a real favourite of one skater, who got a little bit too excited, plucking her cello and getting a bit gobby, and I had to tell him to go forth and multiply (but not in those words).
Poor old Tomoko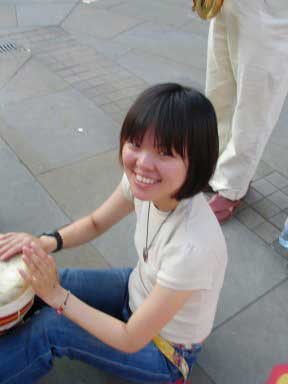 our Japanese multi instrumentalist had to put up with a very drunk Punk who wanted to, ah hum, have a bash on her bongo. Why is it that Punk + Cider = The West Country? I suppose its like Aids and Nigerian Prostitute, some things are unfortunately made to go together (before you moan at me go to the link).
Right moving on………………………………………..
Mark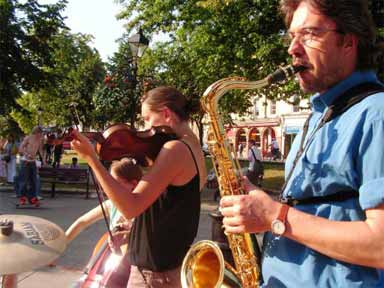 seen here with the strings, took improv to a whole new level when he introduced the art of EATING A SANDWICH mid set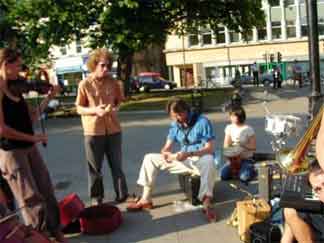 You should have seen the audiences reaction, 'quite extraordinary, really quite extraordinary' was one reaction and another passer by was heard to comment that he hadn't seen such a display since Roland T. Kirk ate a whole hog roast mid set in the 1970's.
Stew was the height of coolness (he's even got one of those trendy jazz style chin beards)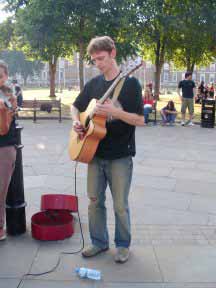 Yunnno I'm often mistaken for a guitarist 'cus I'm a total poser but like my last blog where I showed Hugh and Stew's posing, Stew has taken it to a whole new level. Restrained, adept and with depth, I'm forced to take off my hat to you Stew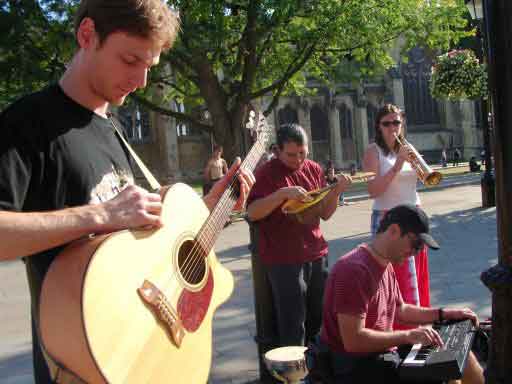 hey and Damn good geetar playing too buddy. Ale too played Getar at one point but the only pic of our Chilean genius is the one above on his mandolin.
So what of the Music I hear you ask? Well there was a great mixture, some summery style chilled out stuff, even a breakbeat tune at one stage, a waltz that I thought worked really well, an experiment with Dani's dice which dictated how many beats to the bar (though there was criticism of my interpretation of 3 at one stage, don't forget as Maestro Peter Swaffer Reynolds said even if we are wrong, we are right). When we played 1 beat to the bar I thought it sounded like a twisted Motown tune. We ended an hour and a half of improv in the open air with a lovely Andy Shepherd style jazzy tune which had a fantastic sax solo from Mark, built around solid chords from Piano maestro Marcus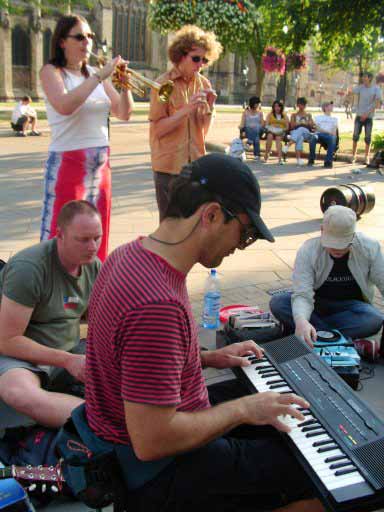 Seen to the left of Marcus was a passer by who felt the love of Orchestra Cube and joined in, I believe his name was Chris. Chris, we too felt your love, right on.
And how did we go down? Well a few comments were positive and judging by the looks of people walking home from work and the amount who stopped and watched it was all good. Down the pub later we all agreed we'd enjoyed ourselves immensely. How much did we make? Well £100 for the Cube and £1.60 for us. I'm gonna put that on a horse up the bookies next week and see if it makes any money. I'll let you know how I get on.
A big pat on the back for all who played, Ale, Stuart, Mr. Hopkinson, Tomoko, Emma, Amy, Marcus, Dani, Richie Paradise, Belinda and guest star Chris. A big thanks to Jesse for sorting it all out.
Well done also to Ed and Miles for turning up before any of the Orchestra to lend your support, this Bud's for you friends (in Miles case this cider)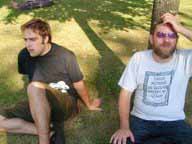 Till next time pop fans,

Richie Paradise