Quit complaining wise guy, it's taken me a week to recover from my 11 hour stint at last weeks magnificent Cube birthday part tay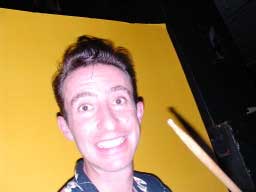 as you can see I was driven to a state of mass extasis.
As were several other fine, oustanding members of the community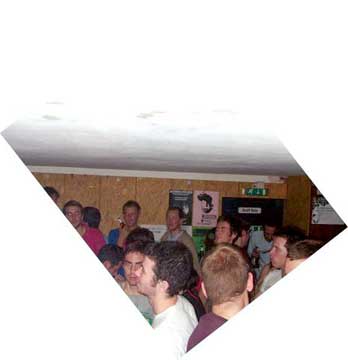 Not quite sure how they got to be there but rest assured there were plenty of debased and morally corrupt Cube Regulars there too: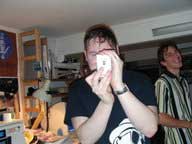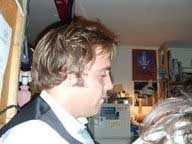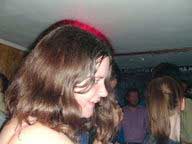 So what went on SEnor Paradise? Well we had top djing by I can't remember who (I forgot a lot of names I'm afraid) but these pictures of dancing fun will demonstrate just how good it was, and look out for Simon Callow of Pop Idol fame too:

yeah here he is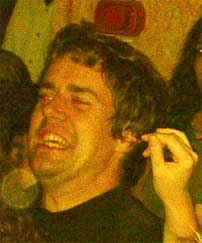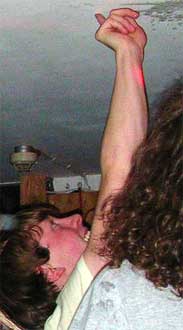 At one point the whole bar was jumping up and down hands in the air styley, boy I don't know about you guys, but I felt alot of Love in the air. On that Cue, hello ladies: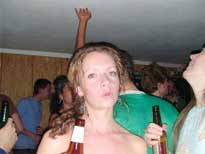 We also had two super bands, Rasha Shaheen's and Jem Nobles The Hard Returns and a top band from North London called The Chap, possibly named after the fine gentlemans quarterly that is both for Gentlemen and is quarterly, The Chap. Talking of Chaps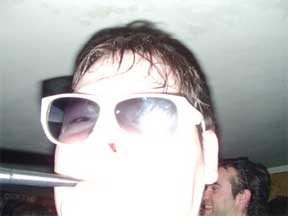 We also had Movieoke, played a lot later than usual and to a much bigger, possibly non partisan audience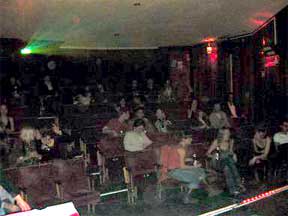 People often ask me about my love of Movieoke well the truth must come out, if I don't do it this lot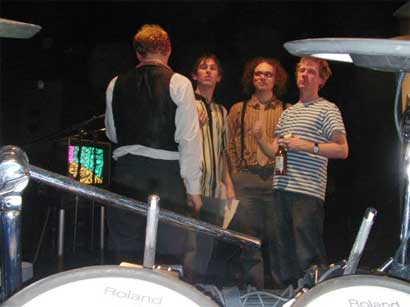 have threatened (fight back tears) to write satirical pieces about me in the non popular press (sob sob). Well what can I do? With an audience unused to what we do for Movieoke, and some of the regulars not there to get up and do it, it took some time to get it going (in fact lots left for beer, the cads). Tom did his best as always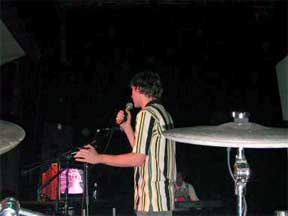 and we did get some good performances (including a couple by those Chap people)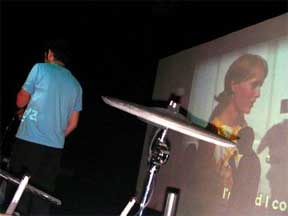 Top work by Colin on piano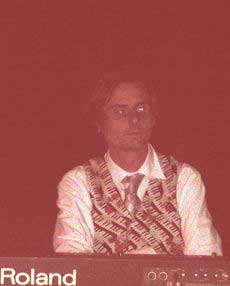 though when we started with 'America' I think I was in the South and Colin the North, but luckily we met half way in Central. No pics of Max this time, not related to his jibe that I should stick to the drums after my Movieoke stage performance, I was just too absorbed with the b e a oootiful audience (you guys were great by the way, give yourselves a big round of applause).
So what of after? Well for some reason a game of Cheese charades with two graphic designers (by the way ladies you said my card could be better so get in touch), and continued fun in the Cube office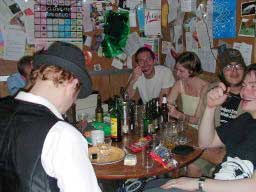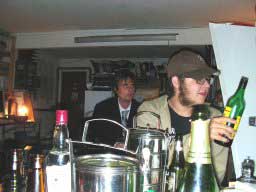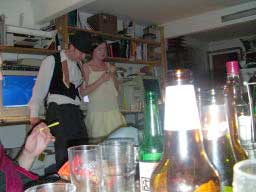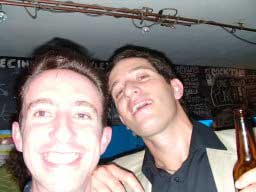 Colin played a few tunes, Brick regaled us with stories of woe, Sanotogen wine was passed around (who the hell brought that?) and good times were had by all.
With just the hardcore left (Meself, Hog, Katherine, Tom and Mr Hopkinson) it was time for Hellzaoppin
I guess you could say it was doing that postmodern self reflective thing before the fancy terms had even been invented (am I right Professor Hog?). Tom and Katherine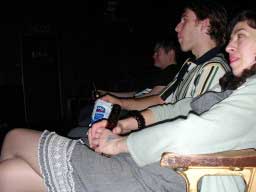 managed to watch some before sensibly heading off to a warm bed. I managed to get up to the 11th hour stint before I headed off past the half marathon bollards myself. A fine party. Well done everyone who helped out and to all who turned up.
Feel the love,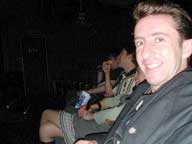 Richie Paradise