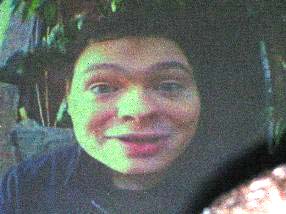 Damn this was a good night and should go down in a top nights at the Cube Ever list (perhaps a Channel 4 tv program hosted by Jimmy thnigybob).
Anyway the night started well with hilarious drinking in the bar by Hugh 'Lensman' Spiller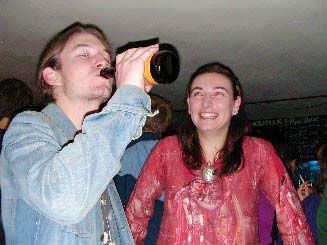 either that or long haired men drinking are highly comical to our antipodean cousins (in this case 'Brassy' Belinda Davies). Meanwhile backstage Tomoko and Elly contemplted the madness that was to come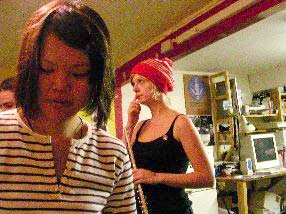 …………..
So the orchestra were first up, we waited as Mr Hopkinson explained on the screen what it was we were going to do, basically a giant bird was going to conduct the Orchestra via a system of hand signals as developed by Peter SwafferReynolds. No honestly, SEE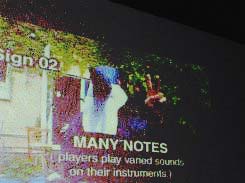 The Orchestra waited spell bound, and the audience looked on in horror and amazement at was what to unfold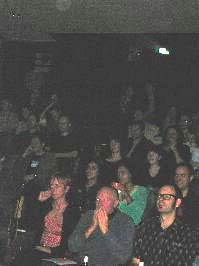 Personally I don't remember much about the music, we haven't done the conducting signs thing for some time but we played well to the signs, here Ellie demonstrates
and it must of worked 'cus the audience didn't walk out, yes I said the audience didn't walk out! hence Ellie's rather smug (and stoned) look (thats Richard and his melodica in the background factfans)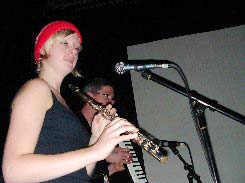 a round of applause and then improvised craziness till the curtain brought an end to our most experimental of performances. Well done to all, Peter, Tomoko, Hugh, Stuart, Belinda, Team Brick, Richard, Ellie and myself, not to mention Jesse as the bird and Mr H himself.
Next up Kowledge of Bugs 9v orchestra. This was MAD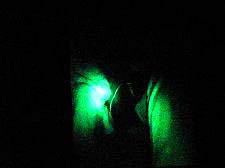 Underneath the stage and seat Tom Bugs used movement snesors to create an orchestra of noises. I'm not sure what to suggest Tom, a good psychiatrist or the number for the ARTS Council.
have to admit I missed the Turntable Orchstra as I was seeing a friend from Spain in The Bell but I was told by Bryn (seen here on the left of me)
that they should win the Turner Prize, and as a gentlemman and the husband of Belinda then I'm prone to believe him.
Meanwhile in the bar my Movieoke sparring partner Colin Smith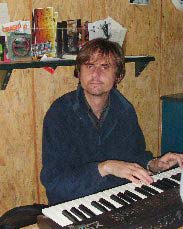 backed up Diss Miss on the decks with his keyboard antics. This was mighty impressive stuff, and there was some fine dancing in action by the sizeable crowd.
Then Finally we had Mr Hopkinson's Cutting Up My Friends film
Which kind of started with Mr H punching out bits in card before playing it through one of those wind up thingys. What followed was unbelieveably good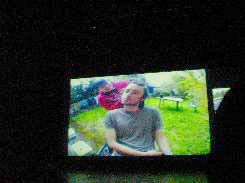 and apparently it's only the first draft. The graphics were amazing, the music sensational and the whole thing so iimpressive that the main reaction of the audience was huge crazy smiles and Evagelical hands in the air nuttyness, SEE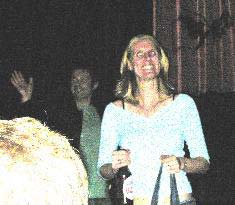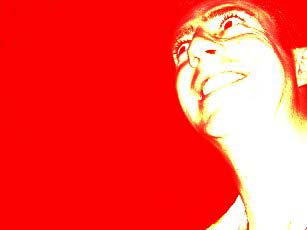 I really liked the bit where a tiny piano was being played whilst a penguin swum in the background. My Camera chose to run out of power around here but honesrtly the reaction of the crowd was fantastic, I feel truely honoured to have been involved in the peformance and in the film. Mr Hopkinson, we salute you.
A great day my friends, look out for further screenings.
yours gobsmacked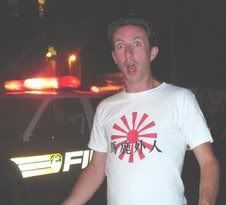 Richie Paradise
PS Hopefully Mr Hopkinson will wax lyrical on his feelings about the night too.