Not our best occasion and I'm a hurry so I'm gonna keep this simple people. WE SUCKED BIG
Well it was inevitable really, a good run of creativity crowned by last weeks Mr Hopkinson gig kind of meant we had to eventually take a fall.
A new member though, seen here playing Clarinet. her name began with O, Oneli?, and she did a sterling job.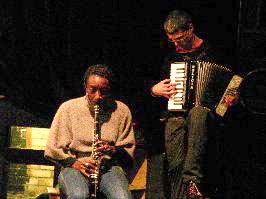 best bit of evening was Hugh's idea of all playing the effects pedals in a loopy thing, 'cus of numbers me and Team Brick played a backing track to the noise jam. Needed to be louder but hey…….
Hopefullly the next one will be of full of creative juices.
If you'd like to see more pictures go here
Ciao,
Richie Paradise
ps nice to See Mr Hopkinson back in the fray