Back in mid September, I went to see my singing computer ( not to be confused with the band My Computer ) supporting Freeze Puppy and Minotaur Shock at the ICA, which was the London date of a five date tour ( most of which I missed due to cut-up video busy-ness ) put on by Qu-Junckions which is basically Chiz & Mark ( pictured below Mark, me, then Chiz ) . . .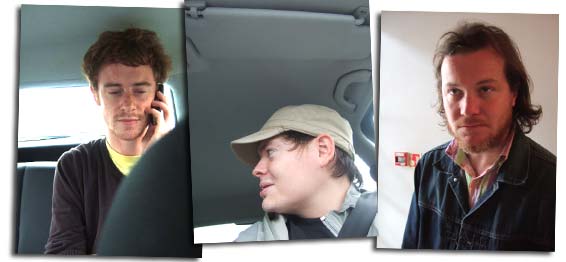 . . . who I went down in a car with. And who's organising, and Cube related roles, is the tenuous link that I'm using to post this here. They checked out a few venues for future, now past shows, like Murcof at The Spitz, and I met up with pre-Cube Minto-era ex-Bristol dwellers and old chums Doug Smith ( pictured below, with Freeze Puppy on the left ) Phaedra ( not pictued ) and also John Hayward ( also not pictured ). . .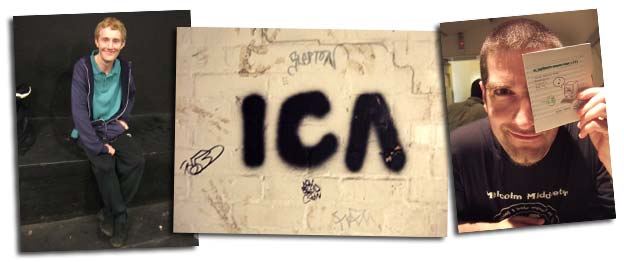 The computer was on first to a good reaction, and he also had surprisingly healthy CD sales.
Freeze Puppy was amazing, really winning over the crowd with his unusualness that thankfully didn't bewilder in a bad way.
Then I joined headliners Minotaur Shock, that is David ( who is MS, really ) plus Emily ( on flute and more ), on stage to operate the dvd backdrop . . .

I messed up one of the cues to my eternal internal shame, though I don't think the audience noticed. Phew.
All in all a great night, entertaining and thought provoking enough without lacking life which I've thought is a pitfall the 'gig space' of the ICA can sometimes find itself in. The gallery's always pretty spot on though, and I enjoyed having the chance to see the 80's Art re-vist 'The Real Me' exhibit.
More old news to follow . . .