Sorry, Cubeblog was on another hiatus there for a tepid minute. Actually, time and time travel has been coming up, time to time, for some reason in various conversations recently . . . plus the various dimensions beyond the 4 we can perceive . . . but it's all just memories of bits that stick from In Our Time etc, so not exactly what you would call super rigorous science.
Anyway, whatever, Ben certainly looked like he'd just stepped out of the 20th Century . . .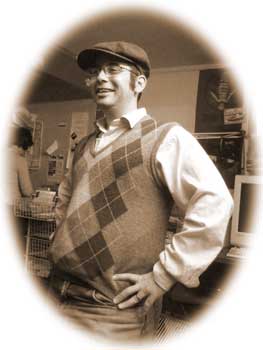 . . . when he stepped into The Cube for The Crazy World of Arthur Brown, or more specifically the night of readings, q&a, signings and occasional performances as part of a book tour, for Polly Marshall's biography. They were in conversation on the stage . . .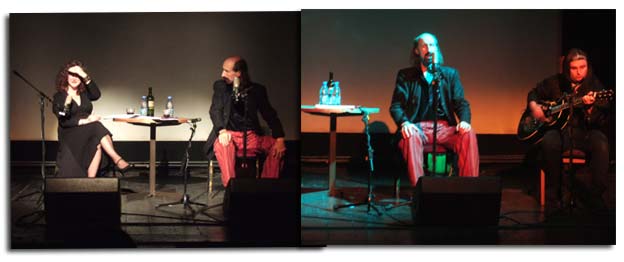 . . . and later Arthur performed a few tracks with a guitarist, including a cover of Screamin' Jay Hawkins' 'I put a spell on you', and another one introduced as the first track John Peel ever played on Radio 1, which I think was his own composition ( Arthur's, not John's ).
Meanwhile another cover lover, my computer, like Bournemouth, seems to have a life of his own . . . last night he turned up on Radio 1, on Huw Stephens' One Music Show Christmas special with a track from a live recording made at last year's Cube Xmas show.
Huw's whole show is available on Radio 1's listen again for a week after the original broadcast ( there's also a little bit of Confident Bob in there cut up with Cassetteboy, closing the show, apparently ). Just the computer's bit as an mp3 can be had here for the foreseeable.
I think the Computer is performing his Xmas set again this Friday at the volunteers' party in place of the-sadly-unable-to-play-though-listed-in-the-programme Quadrobe.
The volunteers' email list has been rather active and forumesque recently thinking up things to show and do in place of Quadrobe, and with the mere mention of Buffy being as contentious and divisive as ever – love it or hate it, you'd be mad not to love it, I say – if you have any passing interest at all in risk-taking narrative subversion, that is.
Beautifully, but a bit boringly, Twin Peaks and The Simpsons seem to unite all.
Good will and peace out for now.