This Friday & Saturday saw a new mini-festival brought to us by Qu Juncktions . . .
QuWack
This was QuWack, number 1, "M" ( for all Male. Next, obviously, will be "F" for all female . . . )
Two nights, seven and a half solo male performers, all categorised as uncatergorisable, doing one fifteen minute set each – the "half" men being one man doing a pair of seven and a half minute performances to end the first day and start the second – with the curtains closing bang on the 900th second ( or 450th ) whether they'd finished or not . . . geddit?
That's what we were promised, and broadly got, although Saturday had an extra bonus performance ( from George Headfall ) and a Chiz curtain calculation error meant Kid Carpet got cut off at the 10 minute mark – but he came back almost immediately for a 5 minute encore much to the crowd's delight.
So, who were the fellas? Have a look see . . .
FRIDAY

SATURDAY


It was all top notch and a tribute to good thinking by Chiz & Mark of Qu for giving so many singularly talented odd-bods a set set time to prepare something stunning for.
A particular inspirational stroke was Chiz's idea, faultlessly executed by Adam Faraday, to video the performances which were then played back ( sans audio ) immediately onto the closed curtain while the change-overs took place . . .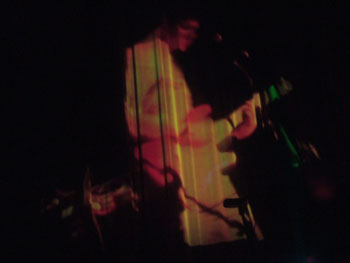 . . . so bringing a wonderful coherence to the over all events.
There were too many performances for me to do in-depth reviews, but overlapping themes were looping and layering ( Ian Green / Maiof / Freeze Puppy/ Def Con Stylus and Paul Bradley ), virtuosic single instrument mania ( George / Colin Smith ), startling vocalisations ( Men Daimler / Team Brick ) and timely Ivor Cutler tributes . . .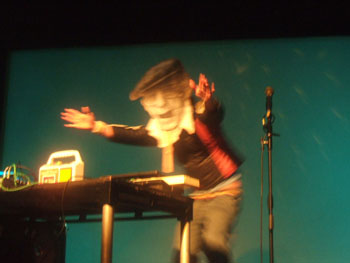 . . . from ( separately ) mr_hopkinson's computer and ( pictured ) Kid Carpet . . . which leaves out-on-their-owners Don Mandarin ( karaoke of your own songs ), just off the plane from Berlin international electro superstar Kurt Wiesel ( needs no introduction – this man is HUGE, if you haven't heard of him, you will . . . ), a beautiful little set from last minute slot filler Fránçois, plus S J Esau, who I sadly missed as I was taking care of my computer after his set ( sorry, Sam ! ).
Friday's audience was a little bit undersubscribed – not too bad though – but Saturday was completely packed out – all in all amazing.
The one female performance presence in this male, though handsomely un-macho atmosphere, was multi-linguist Lea Piontek, who introduced acts carabet style in the spotlight in front of the closed curtains . . .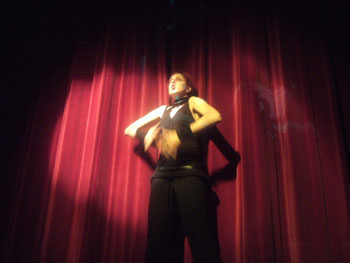 . . . including Kurt's intro in German and Fránçois' in French.
Loads of pics up on Sparror . . . and if you want mp3s of my compy's Cutler tributes you can get one on his myspace space ( search for Ivor's image ), and the other on Rob Da Bank's listen again ( around the 1:04 mark ), if your reading this around the week it was written . . .