Sorry for lack of recent posts ( now, how's that for a familiar starter for ten ? ).
Uncharacteristically I haven't actually been at The Cube too much recently, and last time I was, for the bi-annual Sparror Users meeting, I was so flustered by the impressive words of the tech team that I, very uncharacteristically, forget to photograph!
Broadly things discussed were whether the sparror server, from which you'll be accessing this very page, should stay physically in The Cube now it could be cheaper and more efficient for it to be external, and as something needs to be done now the user group has grown with more demands for mp3, video and pics – basically it needs to be symmetrical rather than asymmetrical.
We decided it is better staying within The Cube ( while it lasts – one point by practical catastrophist Heath was how sparror will survive after the inevitable expiration of The Cube – only as inevitable as in all things eventually move to their end – burt even so we talked about what to do if this little misspelt bird's death doesn't come first ).
I'm glad to report that sparror will be kept inside The Cube, one reason being, "because it's cute" ( (c) Dani Landau ).
Coming up inside The Cube we have March's Movieoke . . .
. . . last one was a blast, for the audience at least ( which is of course the key, or one of the keys ). Hopefully with a bit of well placed prep we'll have everything in place for all the team to fully enjoy it too ( I'm alluding to poor Hog who had to cue DVDs using a DV camera as a monitor – heroic, but hellish – I mean just think about that for a moment, it's hard enough spending a night searching a succession of entire movies for particular scenes under pressure but when you can see what you're doing and menu buttons aren't just a couple of pixels wide, sheesh! ).
And coming up outside The Cube, outside Bristol even, our Lady Lucy has her drawing show at The Drawing Room . . .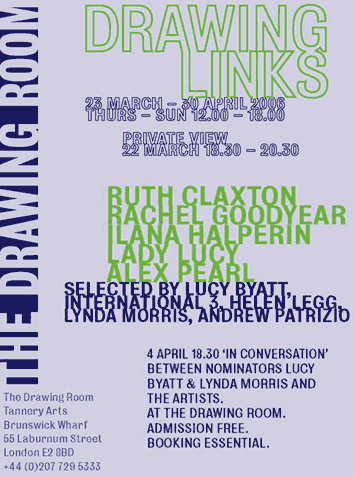 . . . so carloads of capital supporters will be heading down ( or is it up ), hopefully including me . . . and my camera . . .
Oh, and in a me-mail stance, I was flattered to be described as a potentially professional level stuntist by our friend in the very north.