The Cube takes a summer break for the first two weeks of August allowing, with less to describe, a break from the opinion dividing large square stapled watershed-esque program of late for . . . [ stop to grab a breath ]. . . a natty little b&w one piece . . .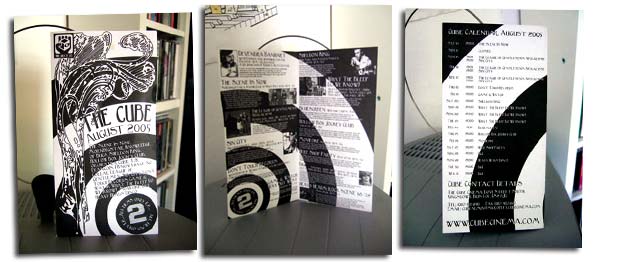 We reopen on Monday with The League of Gentlemen's Apocalypse and Sin City.
It's been quiet in the meanwhile, though the Orchestra Cube practice continued for the hardcore . . . I made it in time to photograph this Wednesday . . .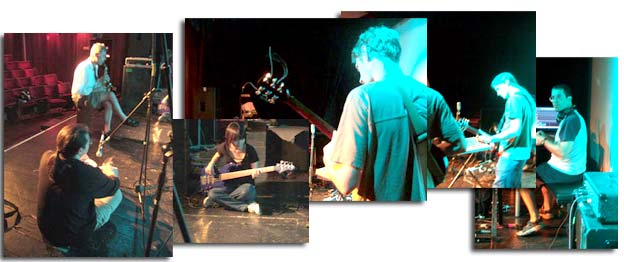 . . . but not in time to secure amplification, so instead I caught up with Lady and James in the Office . . .
. . . which must have been the busiest it had been for days. It got even busier with the arrival of Doctor Moody and crew, checking out the Cube spec for the launch of their new Surgery Record Label. They sat bewitched in the auditorium for a particularly atmospheric Orchestra Cube improvisation . . .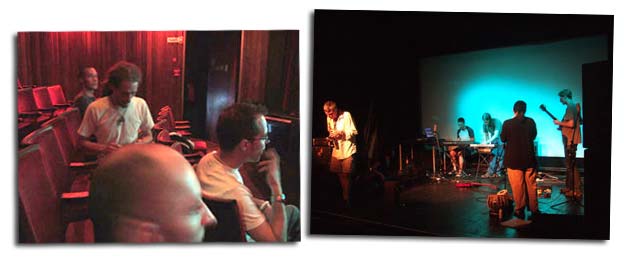 . . . for more on the Orchestra's movements, please refer to Richie's post below . . .
Cube related jaunts have continued elsewhere, however . . . on Friday Devendra Banhart, Espers and Josephine Foster played Trinity, thanks to Qu Junktion. It was also Jem's Birthday and many Cube volunteers and regulars were in attendance.
The night ended with a jubilent stage invasion . . .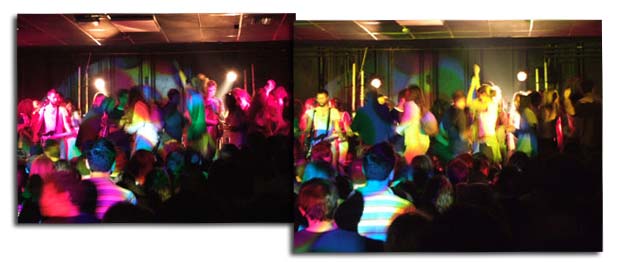 I walked home with Rasha, Ali and Amy, stopping in on Lady Lucy on the way who was DJing for Girl Wonder at Cosies . . .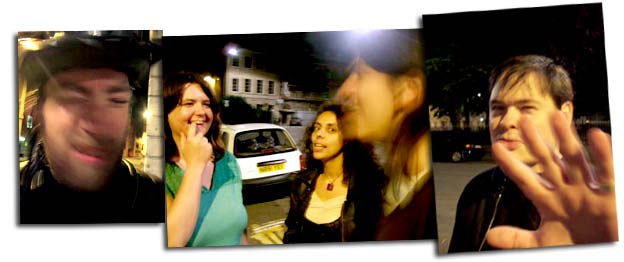 Seems to be a bit of a birthday season – this Saturday was Morgan's birthday, and the previous Sunday had been Patrick's.
That was the weekend of The Big Chill Festival at Eastnor Castle, and it was attended by a large Cube contingent including Chiz, Esther, Dot, Ali, Rod, Zulieka, Jem, Angela, Milo, Morgan, Rasha, Clyde, Patrick, Mr Tim, RLF and Max Blackout on holiday.
I was there for various performances and screenings – to knob twiddle as part of the Bug Planet rescore, provide cut-up video prior to RLF's Godzilla, and a 10 minuteComputer Sings performance, which due to a time mishap happened without me!
We were performing off stage too, doing walkabout for The festival via Fingertank theatre, first as Cosmonauts . . .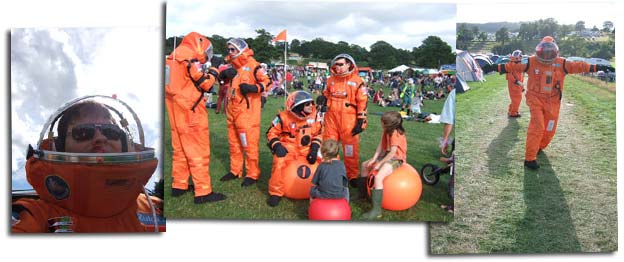 . . . then as impromptu hillbilly preacher pimps . . .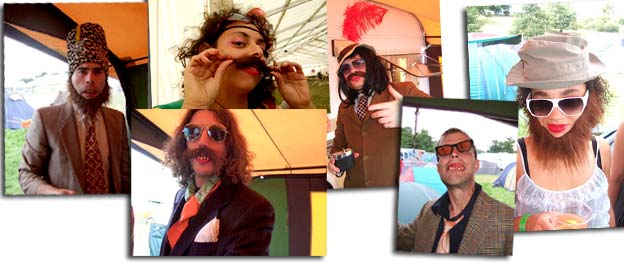 . . . which proved that some cheap joke shop teeth can illicit as good if not better performance than weeks of work and hundreds of pounds spent on making complex spacesuits !
Later that day the all female space crew took to the site . . .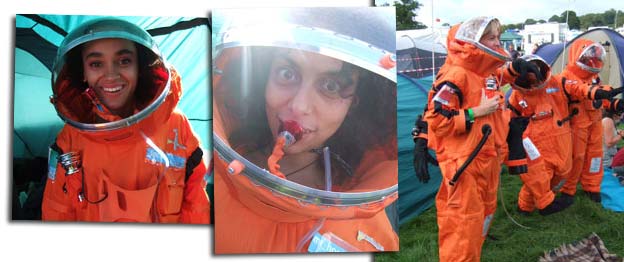 . . . while the chaps spent a few hours getting suited up for the night ahead . . .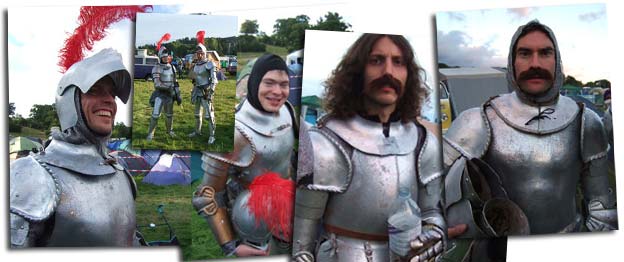 . . . which mainly involved quaffing much mead and bellowing "MY GOD YOU ARE THE MOST BEAUTIFUL WOMAN I HAVE SEEN IN MY ENTIRE LIFE!", at every woman in eye and ear shot, especially if you were Sir Timothy of Eastnor.
Tough gigs, but someone's got to do them.
If you have Broadband, Flash installed and working sound on the computer you are looking at this with ( i.e. probably not in The Cube! ), you might like to check the short accompanying video clips . . . Preachers . . . Spacemen . . . and Knights.
Until the next time, which will I fear be infrequent until the Cut-Up is complete, I bid you farewell gentlefolk.